Maintaining fame can be challenging because, when some ages, their fame can fade. However, this is not the case for some celebrities because even as time passes, they are still recognised and remain firmly in the spotlight. Despite their old age, the oldest living celebrities keep amazing their fans because they are energetic and strong. Some still work in their industries and keep shining, while others have retired.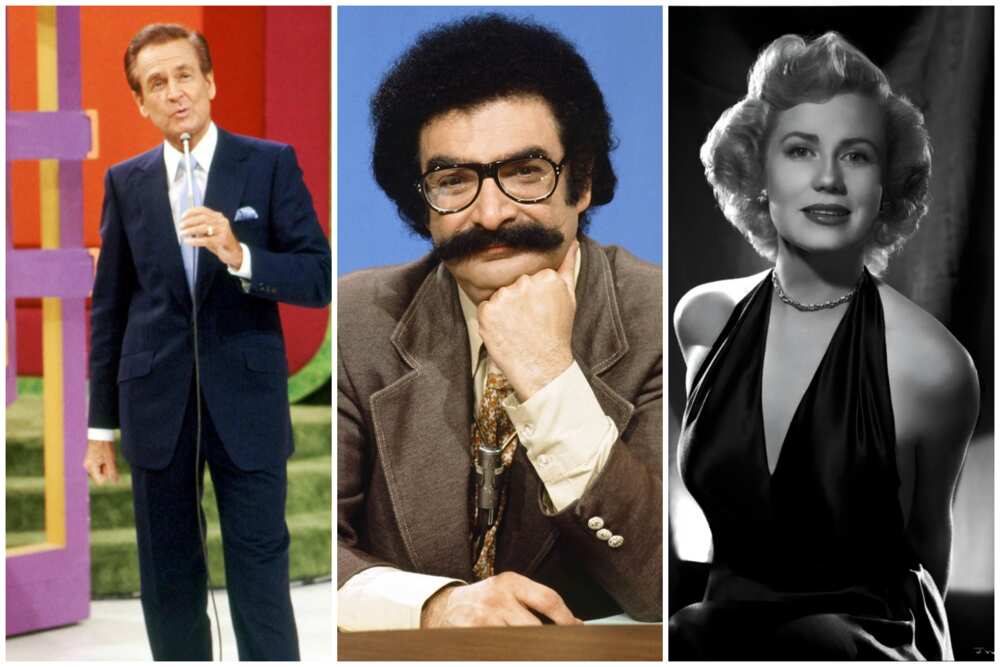 When people get old, others retire and return to their homes, but this is not the case for some celebrities. Some famous old people are still working and don't plan to stop their careers soon because of their age. These celebrities are true proof that age is nothing but numbers because even at 90, they are still strong and doing well.
Oldest living celebrities
These living legends keep shining and captivating their fans worldwide despite their ages. Below are some of the oldest famous people who are well over 90 as of August 2023.
1. Elisabeth Waldo (105)
Who is the oldest celebrity? Elisabeth Waldo is the oldest celebrity alive at 105 years old as of 2023. She is an American former violinist, composer, conductor and ethnomusicologist. She is known for songs like Lost on Paradise Island, Chac and Song of Mexico.
2. Caren Marsh Doll (104)
Caren Marsh Doll, whose real name is Aileen Betty Morris, is considered the oldest actress alive. She was born on 6 April 1919 in Hollywood, California, United States of America. She has appeared in popular movies like The Wizard of Oz, Gone With The Wind and Secret of a Sorority Girl. In 1949, the actress was involved in a plane crash and was one of the few survivors.
3. Iris Apfel (101)
Iris Apfel is an American entrepreneur, interior designer and fashion icon. She is known as the co-founder and head of the Old World Weavers textile company, which she founded with her husband, Carl Apfel. The company took part in several design restorations at the White House for nine presidents. She celebrated her 101 birthday on 29 August 2022 and shared a video on Instagram.
4. Ray Anthony (101)
Ray Anthony is among the old famous people alive. He is an American bandleader, trumpeter, songwriter and former actor. He is known for songs such as Moonlight Serenade, In The Mood and The Bunny Hop. He was the musical director of the television series called TV's Top Tunes from 1953 to 1954. Ray Anthony was a member of Glenn Miller's band.
5. Norman Lear (101)
Norman Lear is a television producer and screenwriter. He was born on 27 July 1922 in New Haven, Connecticut, United States. He is famous for producing sitcoms such as All in the Family, The Jeffersons and Sanford and Son. He is also known as a political activist.
6. Janis Paige (100)
Janis Paige is an American actress and singer born on 16 September 1922. She is famous for playing the role of Ann Fox in the 2001 television series Family Law. She has appeared in films such as Natural Causes, Room for Two and Caroline in the City.
7. Jacqueline White (100)
Jacqueline White is an American former actress famous for her roles in films such as Return of the Bad Men, Crossfire and The Show-off. She has worked as a contract player at both MGM and RKO. She Was born on 27 November 1922 in Beverly Hills, Los Angeles, California.
8. Bob Barker (100)
Bob Barker is a retired television host known worldwide for hosting Truth or Consequences and The Price Is Right. He also presided over the Miss USA and Miss Universe pageants. Bob Barker is also known for the DJ&T Foundation.
9. Mike Nussbaum (99)
Who is the oldest living male actor? Mike Nussbaum is the oldest actor alive at 99 years as of August 2023. In an interview, he said he served in the Army from March 1943 to March 1946. As the oldest actor alive, he is known for Ton of Your Life, The Chicago Code and Dirty Work. He was nominated for the 1972 Joseph Jefferson Award for Best Actor for his performance in The Royal Family.
10. Eva Marie Saint (99)
Eva Marie Saint is an American actress known for featuring in films like Winter's Tale, Superman Returns, and Don't Come Knocking. She received an Academy Award for Best Supporting Actress as Edie Doyle in the 1954 classic On the Waterfront.
11. Jimmy Carter (98)
James Earl Carter Jr is a retired politician famous as the 39th president of the United States of America. He was born on 1 October 1924 in Plains, Georgia, United States. After leaving office, he became the first president to receive a Nobel Peace Prize. He served as president from 1977 to 1981.
12. Joyce Randolph (98)
Joyce Randolph is among the oldest living celebrities still alive. She has played many characters in films like Everything's Jake, The Doctors And the Nurses and The Clock. She rose to fame for paying Trixie Norton on the television series The Honeymooners.
13. Dick Van Dyke (97)
Richard Wayne Van Dyke is an American actor, comedian and entertainer born on 13 December 1925 in West Plains, Missouri, United States of America. He has appeared in films like Mary Poppins and Mary Poppins Returns. He is widely known as the star of The Dick Van Dyke Show and Diagnosis: Murder.
14. Alan Greenspan (97)
Alan Greenspan is an American economist famous as the former United States Federal Reserve chair. He was born in New York City, New York, United States. He was chair of the Council of Economic Advisers under President Ford from 1974 to 1977. Alan is also the author of The Age of Turbulence and Capitalism in America with Adrian Wooldridge.
15. Gene Shalit (97)
Gene Shalit is an American retired journalist, television personality, author, film and book critic. He was born on 25 March 1926. Gene Shalit is widely recognized for The Today Show. Before fame, he wrote critiques for print publications like Cosmopolitan, The New York Times and Look.
16. Shecky Greene (97)
Shecky Greene is a stand-up comedian and one of the oldest actors alive. He has appeared in films like Mad About You and Rosanne. In 2020, Shecky was inducted into the Official National Comedy Hall of Fame Museum after 100 Hollywood luminaries voted him in various entertainment areas.
17. Sir David Frederick Attenborough (97)
David Frederick Attenborough is a British broadcaster, writer, naturalist and nature documentary producer. He is famous for Planet Earth and The Life of Birds documentaries. Before he rose to fame, he was an avid collector of fossils, stones and other specimens. He was awarded the Order of Merit by Queen Elizabeth in 2005.
18. Mel Brooks (97)
Mel Brooks is a famous comedian, actor, filmmaker and songwriter from the United States. He is renowned as the director of satirical comedies Blazing Saddles, Spaceballs and High Anxiety. The comedian has won awards like Oscar, Grammy and Emmy awards.
19. Lee Grant (96)
Lee Grant is among the oldest celebrities still alive. She is an American actress, documentarian and director. Lee Grant is known for her notable roles in films like Going Shopping, The Amati Girls and American Masters. She has bagged awards like Golden Globe, Primetime and Obie Awards. She is also known for the documentary Down and Out.
20. Peter Marshall (96)
Peter Marshall is a former game show host, Television and radio personality, singer and actor. He is well recognised as the original host of The Hollywood Squares from 1966 to 1981. He is known for popular films like The Bold and Beautiful, Sledge Hammer and Last Dance. His real name is Ralph Pierre LaCock.
The oldest living celebrities prove that old age does not mean the end of fame. These celebrities remain iconic because of the type of success they have achieved in their fields. They include personalities like Mel Brooks and Jimmy Carter.
Legit.ng recently published an article about the 20 most famous people in the world in 2023. It is not easy to become famous because one has to do something unique that captures the attention of many people. Today many people have gained fame, especially on social media.
Famous people have excelled in their professions and have many fans globally. Celebrities like Beyoncé, Cristiano Ronaldo and Kylie Jenner are some of the most famous people in the world.
Source: Legit.ng