Bola Ahmed Tinubu, a former Lagos governor, met with an ex-chairman of the PDP, Aliyu Adamu Muazu, on Sunday, December 12
The prominent politicians met at the Nnamdi Azikiwe International airport, Abuja in the evening of Sunday
The duo was said to have exchanged pleasantries apart from other discussion details of which are yet to be made public
Abuja – Two top heavyweights in Nigerian politics, Aliyu Adamu Muazu, a former PDP national chairman, and Bola Ahmed Tinubu of the All Progressives Congress (APC) met on Sunday, December 12.
Both politicians from the topmost political parties met at the Nnamdi Azikiwe International airport, Abuja.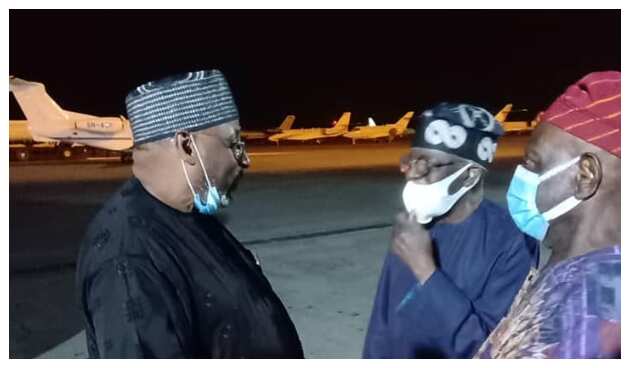 The former PDP boss was with his wife when he exchanged pleasantries with the former Lagos governor and presidential aspirant in the 2023 general elections.
Photos that captured moments when the duo met were shared by Buhari Muazu Abubakar, the director of contact and mobilisation of the Muazu support organization.
Abubakar, speaking on the meeting via Facebook, wrote:
"Former PDP national chairman, His Excellency, Ahmad Adamu Muazu walin Bauchi has today met with Bola Ahmed Adekunle Tinubu, who is a Nigerian politician and a national leader of the APC at Nnamdi Azikiwe International airport, Abuja.
"They exchanged pleasantries together with other people too in the airport as they meet."
2023: Begin to prepare your handover notes, PDP tells APC
Meanwhile, Dr Iyorchia Ayu, the national chairman of the PDP on Friday, December 10, demanded that the APC began to prepare its handover notes.
The former Senate president made the remark in his inaugural speech at the Abuja International Conference Centre.
Ayu was inaugurated along with other newly elected members of the main opposition party's National Working Committee (NWC).
The new PDP boss speaking further listed the damages the ruling party had caused to the country.
He noted that the APC made Nigeria the poverty capital of the world after inheriting the fastest growing economy in Africa.
While noting that a small group of individuals in the ruling party should not be allowed to continue to destroy Nigeria, adding that the PDP will make Nigeria the focus of development.
Source: Legit