– Following the backlash that trailed his AK-47 comment, Governor Mohammed of Bauchi state has begged herdsmen to be peaceful
– The Bauchi state governor said his statement defending herders' use of AK-47 rifles was just "a figurative allusion"
– Nevertheless, Governor Mohammed said he has no apologies for criticising those who label Fulanis as criminals
PAY ATTENTION: Join Legit.ng Telegram channel! Never miss important updates!
Bala Mohammed, the governor of Bauchi state, has begged Fulani herdsmen not to carry AK-47 rifles but remain peaceful.
The Bauchi state governor had been severely criticised by Nigerians and his colleague governors after justifying the use of AK-47 weapons by herders.
However, Governor Mohammed has urged herdsmen not to carry AK-47 rifles, clarifying that he only made "a figurative allusion" to the use of the weapon.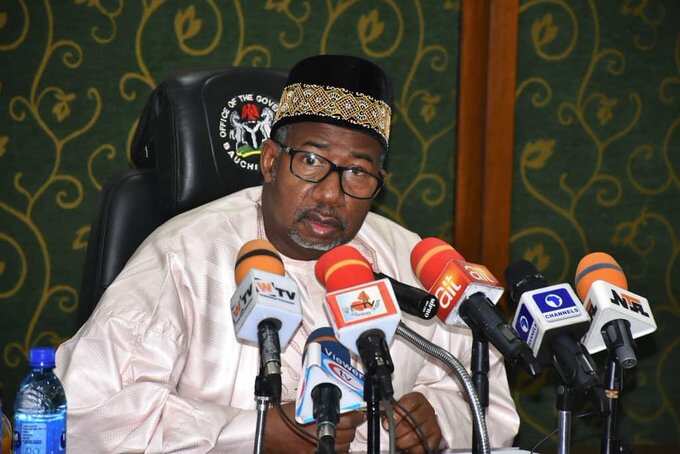 He said:
"Please, don't carry the AK-47 that I made a figurative allusion to. Try to make sure that you remain peaceful."
According to The Punch, the Bauchi state governor made the plea in his speech during the launch of the 2020/2021 annual livestock vaccination campaign held at the Galambi Cattle Ranch, Bauchi, on Wednesday, February 24.
Legit.ng gathers that he described the Fulani people as humble, simple, and humane and vowed to do everything possible to make sure he protects and supports them.
Labelling Fulanis as criminals
In a similar development, Governor Mohammed said he has no apology for kicking against the labelling of Fulanis as kidnappers and killers, Daily Trust reported.
He said it is unfair to label a particular ethnic group as criminals as such action can breed disunity.
Mohammed said over the years, Fulani herders have made sacrifices in their pastoral venture, providing the needed protein through the supply of beef.
His words:
"We kicked against the profiling of the Fulanis as killers and kidnappers. We have no apology for what we have said because what we have done is to say the truth, that there is no tribe or ethnic group that is free from criminality.
"We are not saying that to spite anybody or spark unnecessary controversy. We have made our point and Nigerians across the board have discussed it and I am happy to say that from all indications, majority of sensible Nigerians have appreciated what we have said and that is the point."
Nevertheless, the Bauchi state governor charged herdsmen to expose the "criminals among them" and to live within the law.
Go to Bauchi if you want to carry AK-47 – Ortom
Meanwhile, Legit.ng earlier reported that Samuel Ortom, the governor of Benue, issued a stern warning to herdsmen to respect the state's relevant laws or go to Bauchi state if they are bent on carrying weapons such as AK-47 around.
He said Nigeria is not governed anyhow but by the constitution which gives power to governors in all the states to preside over the land of their states on behalf of the people.
Ortom added that it is the governors who can allocate land and permit people to stay where they are.
*******
Nurudeen Lawal is a Legit.ng journalist passionate about fact-checking/verification journalism. He holds a Bachelor of Arts degree in Literature-in-English from Obafemi Awolowo University, Ile-Ife, Osun State. As Politics Editor, Nurudeen mostly writes on Nigeria's political and socio-economic developments. He has attended different workshops, conferences and training on fact-checking and digital reporting, among others. Learn more about him on Twitter, @Nurudeen Lawal_