A chieftain of the ruling All Progressives Congress has downplayed Atiku Abubakar's case against President Bola Tinubu in the United States
Meanwhile, the Chicago State University (CSU) says it will release the academic records of President Bola Tinubu if a United States court grants the order
Reacting, Aaron Artimas, Taraba APC spokesman said the PDP flagbearer's case against Tinubu is merely sensational and will not influence the election tribunal's judgment in Nigeria
Taraba state, Jalingo – Aaron Artimas, the spokesman for the Taraba state All Progressives Congress (APC), has maintained that the case against President Bola Ahmed Tinubu at the United States court has no legal consequences.
Recently, the flagbearer of the Peoples Democratic Party (PDP), Atiku approached a US court for the northern district of Illinois in Chicago, for an order compelling Chicago State University (CSU) to release the academic records of Tinubu.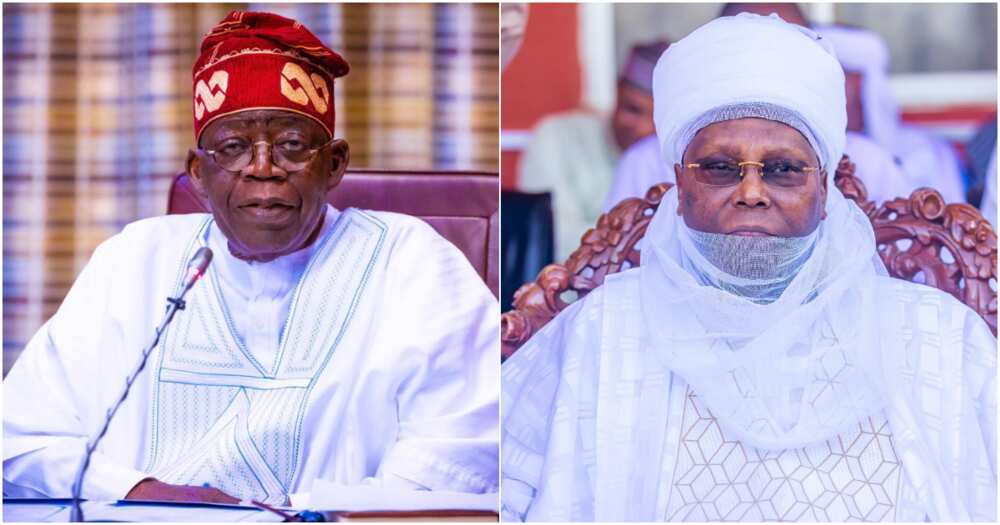 Reacting, Mr. Artimas in a chat with Legit.ng on Sunday, August 27, disclosed that Atiku's case will in no way influence the judgement of the Presidential Election Petition Tribunal (PEPT).
The former APC-PCC media and publicity committee for Taraba state, described Atiku's petition as "merely sensational", adding it "has no legal consequences".
Mr. Artimas said,
"Atiku's case is merely sensational and political and has no legal consequences on the election petition. It has run out of time."
Atiku vs Tinubu: "It's an academic exercise", Taraba APC spokesman says
Speaking further, the APC chieftain faulted Atiku's move against Tinubu. According to him, the former Vice President has a lot of work to do in his quest to challenge Tinubu's election victory at the tribunal.
Mr. Artimas however hinted further that Atiku's move is an academic exercise meant to further cause people to feel uncertain about Tinubu's personality.
"Like the University of Chicago just recently inferred, we can see how the certificate issue can impact his case at the tribunal. He has to find the legal connection in relating to so-called forgeries, which the university has denied several times to his eligibility to contest election in Nigeria.
"It is simply an academic exercise meant to cast a doubt of credibility on the president. President Bola Ahmed Tinubu is not a ghost; he has been around and has occupied many high positions in Nigeria," Mr. Artimas noted.
Atiku's lawyer says Tinubu has 2 Chicago University certificates signed by different people
Legit.ng reported earlier that Angela Liu, the lawyer to former Vice-President Atiku Abubakar in the US, has alleged that Chicago State University provided two similar certificates indicating that President Bola Tinubu attended its institution.
Liu said this in response to a submission by Tinubu's lawyers.
She said three people signed the first certificate while two individuals signed the other.
Source: Legit.ng