The newly commissioned Dangote refinery has failed to take off as expected as Nigeria continues to depend on imported petrol
However, a new report showed that Nigeria had spent billions of dollars on the maintenance of its four refineries
A breakdown shows that the Port Harcourt, Kaduna, and Warri refineries gulped $25bn in Turn Around Maintenance in the last six years
Aliko Dangote, Chairman of the Dangote Group, said during the commissioning of his refinery by ex-President Muhammadu Buhari on May 22, 2023, that the 560,000-barrel capacity refinery will begin production in July or early August.
With August well into the first week, Nigerians are waiting with bated breath as the refinery fails to begin production.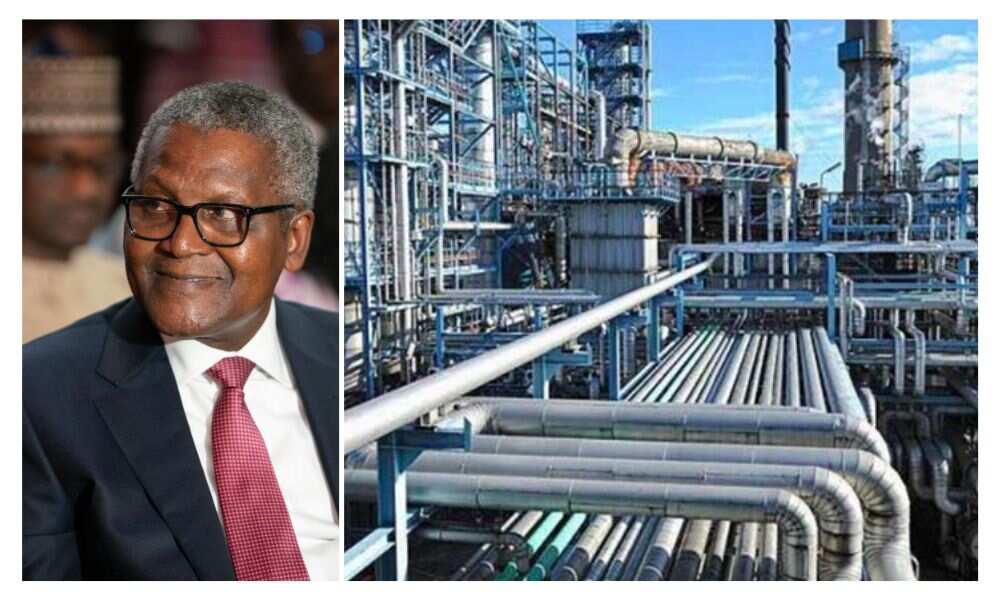 Dangote Refinery misses date for production but NNPCL's refineries gulp billions in maintenance
There has yet to be a word from the refinery management about when the refinery will begin production.
Meanwhile, the failure of the Nigerian National National Petroleum Company, which later became a limited liability company under the Petroleum Industry Act (PIA), to maintain a successful Turn Around Maintenance (TAM) of Nigeria's four refineries reportedly brought Nigeria to the fuel import crisis.
The refineries include two in Port Harcourt with a combined refining capacity of 210,000 barrels per day, the Kaduna Refinery and Petrochemical Company in Kaduna with 110,00bpd capacity, and the Warri Refinery with a 125,000bpd capacity.
The four refineries give Nigeria a combined 445,000bpd.
For over 10 years, the four refineries have drained resources from Nigeria, operating below capacity until 2021, when total production was stopped.
NNPC's spending on the refineries over the years
According to a report by The Nation, in 2018, there was a breakdown of the consolidated capacity of the refineries. In January 2018, close capacity utilization was estimated at 48,460.5 barrels, 10.89% of their total capacity.
NNPC report shows that the operating deficit in 2017, when compared to the 2018 trading year, the Port Harcourt Refinery posted a loss of N59,96 billion, Warri recorded an N41,71 billion loss, Kaduna recorded N31 billion loss
Despite the enormous amounts spent to rehabilitate the refineries, they were producing at less than 30% of installed capacity before finally shutting down in 2021, leading Nigeria to depend solely on imported refined petroleum products, which Nigeria subsidized until the removal of subsidy by President Bola Tinubu on May 29, 2023.
NNPC said the amount spent on Turn Around Maintenance (TAM) on the refineries, when they dropped to 5.55% of their total capacity, amounted to N16 billion in March 2020. Also, in the same month, the Kaduna Refinery recorded a deficit of N5.09 billion, the Port Harcourt Refinery lost about N5.37 billion, and Warri Refinery lost N5.56 billion, while the combined projected revenue for the refineries was N7.7 billion.
NNPC's financial statement 2018 showed that Kaduna did not generate revenue in 2018 but spent N24 billion and incurred an operating loss of N64.5 billion against its N2 billion income and N112 billion losses in 2017.
An analysis of the costs and organizational expenses showed that it incurred N447.7 million in training expenses, security expenses of N230 million, communication expenses of N37.3 million, and consultancy fees of N843 million.
Also, the refineries consumed vast amounts by way of salaries. Per the audited statement, payments to directors at Kaduna Refinery amounted to N23 billion in 2018, compared to N27 billion in 2017.
The payments include salaries and wages, dead benefits, and administrative expenses.
Directors, other staff at the refineries earn billions without production
In 2018, directors' remuneration, excluding pension contributions and some other benefits, amounted to N109 million as against N249 million in 2017. Also, in 2018, the highest-paid director in the Kaduna Refinery earned N33 million.
The audited financial report for Warri Refinery showed that the company earned N1.98 billion as revenue and incurred N12.74 billion as cost of sales, resulting in a gross loss of N10.57 billion and an operating loss of N45.39 billion.
The Port Harcourt Refinery recorded a total of N1.45 billion in 2018, with expenses totaling N24.04 billion and resulting in a loss of N22.58 billion.
NNPC reports for 2018 showed that the refineries' operating deficits increased by 39% compared to 2017. In the 2018 trading year, the Port Harcourt Refinery posted a loss of N59.96 billion, Warri Refinery posted an N41.71 billion loss, and Kaduna Refinery recorded an N31 billion loss.
Senate moves to probe refineries and NNPCL
NNPC said in a 2020 report that the refineries cost Nigeria about N10.23 billion in expenses despite not processing a single barrel of crude oil in 2020.
As a result, the refineries gulped $396 million on Turn Around Maintenance in 2013 and 2015.
In January 2021, the Senate moved to probe NNPCL after Senator Yusuf Abubakar Yusuf noted that the refineries had not served their purposes.
At his inauguration, the current Group Chief Executive Officer of NNPCL, Abba Kyari, promised he would deliver the four refineries to function at optimal capacity.
Nigerians had hoped that if operational, the four refineries will ease the pains of high cost petrol prices caused by the removal of subsidies.
"It's a Promise": Tinubu assures Nigerians Port Harcourt Refinery will work, sets date for first production
Legit.ng reported that President Bola Tinubu has promised that the Port Harcourt refinery will begin operations by December 2023.
Tinubu disclosed this through a statement issued by Dele Alake, the special adviser to the president on special duties, communications, and strategy, on Wednesday, August 2, 2023.
The statement noted that the president gave the assurance when he spoke at a meeting with the leadership of the Nigeria Labour Congress (NLC) led by Joe Ajaero, its president, and that of the Trade Union Congress, Festus Usifo.
Source: Legit.ng