A maiden tech conference for all in the University community to encourage active tech practice using PYTHON programming language especially.
Mode of Programme
Physical (In house) – 600 person within the University and Abraka Community
Virtual – unlimited number of persons. The link will be shared days before the programme.
Speakers
Victor Ijomah – A content creator, market research consultant and a social media marketer
Gladden Amaeze – A creative brand designer.
Glory Agatevure – A pythonista and a frontend blockchain engineer.
Sedenu Aloaye Charles – A software developer and fullstack engineer.
Schedule
Saturday, 28th January, 2023
10:00 – Registration, COVID precaution check, Welcome
10:30 – Introduction
10:50 – First Speaker
11:20 – Second Speaker
11:50 – Unveiling DELSU Python Group
12:00 – Third Speaker
12:30 – Fourth Speaker
1:00 – Panel Session
1:30 – Fifth Speaker
2:00 – Questions! Question!! Question!!!
2:30 – Refreshment, Closing and Photos
Code of Conduct
No discrimination
No gender nor religion biasness
Nose mask is need
No abusive languages or words
No harassments of any kind
No embarrassment of any kind
You will learn (benefit):
Python Strength and Application Areas
Blockchain Simulation with Python
NFT and Web3 knowledge
Developing with Python for Income
Careers as a Pythonista
COVID Precaution:
All attendees SHOULD wear their face mask. No face mask, no entry!
No 3Cs in the venue, that is, no Close Space, No Close Contact, No Crowded space.
All participants' hands will be washed and sanitized.
Temperature of attendees will be checked.
Adequate and functional waste management facilities will be in place.
Needed Tools
A ready mind.
Ability to unlearn, learn and relearn
A note and a pen (optional because you will be given at the venue).
Rewards
Gifts – notebooks, shirts
Swags
Registration into PSF
Career opportunities
Skill up in skill-base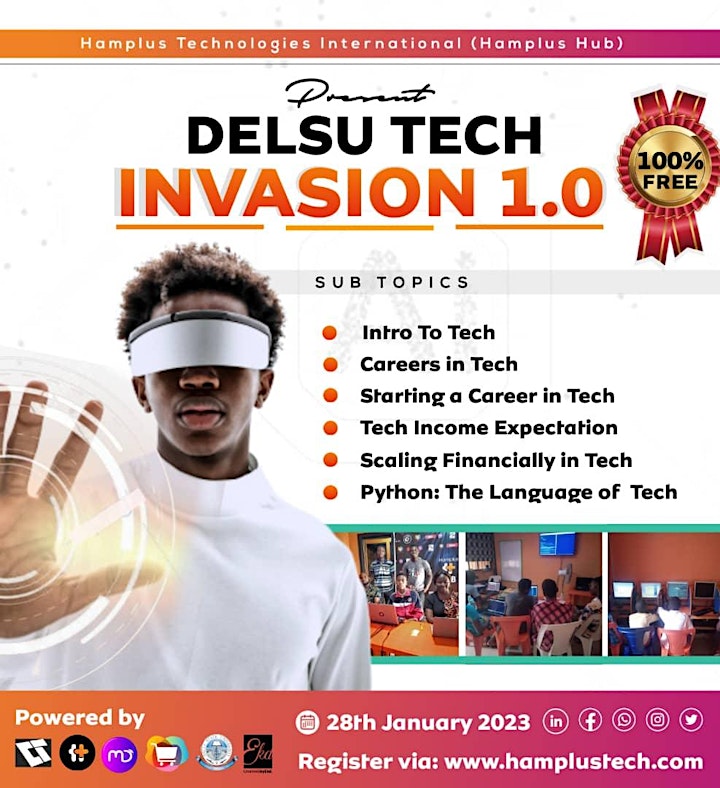 Useful Links (Registration and Virtual programme)
YouTube Live:
https://www.youtube.com/c/hamplushub
Google Meet joining info
Video call link: https://meet.google.com/mxa-ifgm-ugb