– Former President Obasanjo has painted an ugly scenario of what will happen to minority ethnic groups if Nigeria disintegrates
– Obasanjo said the minority groups will be oppressed and exterminated if Nigeria breaks up
– The elder statesman said those calling for secessions are insensitive to the plight of the minority groups
PAY ATTENTION: Join Legit.ng Telegram channel! Never miss important updates!
Chief Olusegun Obasanjo, Nigeria's former president, has condemned the calls for the nation's breakup by some ethnic advocates.
The former president described calls for Nigeria's break up as unmindful and insensitive to the plight of the minority groups in the country, a statement sent on Wednesday, May 5, to Legit.ng by his media aide, Kehinde Akinyemi, indicates.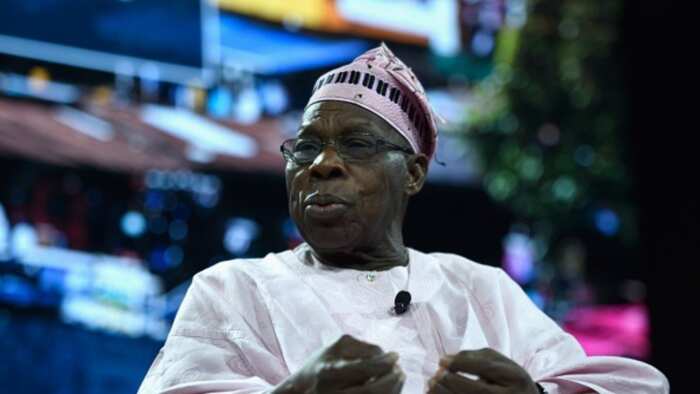 Legit.ng gathers that Obasanjo made the observation when he received the Tiv Professional Group from Benue state who paid him a courtesy visit in Abeokuta.
The former president expressed worry over what would become of the minority groups if the major tribes such as Hausa, Yoruba and Igbo decided to secede and begin to operate as separate countries.
His words:
"If the Yoruba can stand as a country, if the Igbos and the Hausa/Fulani can stand as separate countries, where do we want the minority groups to be?
"Now, by virtue of the present situation, they are a little bit protected, but if Nigeria breaks up, they will be oppressed and exterminated."
Obasanjo stressed the need for Nigerian leaders to be mindful of Nigeria's ethnic diversity just as he added that the country would not make any meaningful progress without such consideration.
He also expressed hope that the rough times the nation was going through would not last forever.
The elder statesman urged Nigerians to be patient while the country gathered her goodwill and moved in the right direction.
Nigerians react on social media
Ibibia Awoju commented on Facebook:
"The ijaws numbering between 8m and 10m are not a minority. Ibibios and Efiks numbering more than 6.5m are a also major group. How do u exterminate them in their own geographic space. Obj shld say another thing. The people who will be at great risk are the northern minorities"
Idoko U Haruna said:
"Minority tribes were in existence and living as independent kingdoms before the creation of Nigeria. What is difficult in Igala, Tiv, Jukun, Ebira etc Coming together as a Nation. Some country population are not even up to Kogi state"
Oladapo David said:
"They can also stand alone. Nigeria can be divided into 6. And many African nation will not be up to any of them afterall Gambia population is not more than 2.7m"
Macphill Festus said:
"In the so called false united Nigeria, are the minority groups enjoying? Are they having fun? Are they not more exterminated presently?"
PAY ATTENTION: Install our latest app for Android, read the best news on Nigeria's #1 news app
In a related development, the national leader of the All Progressives Congress (APC), Bola Tinubu, has kicked against the calls for secession, saying Nigeria is better as one country than separated.
He warned those beating the drums of war to remember what such actions did to countries like Iraq and Sudan.
The APC chieftain disclosed this while giving a speech at a special Ramadan prayer in Lagos on Sunday, May 2.
Source: Legit.ng