The real truth about a viral video that claimed US President Joe Biden said Nigeria's former leader was a dead man has surfaced
Fact-checkers have described the news item, shared majorly on social media especially WhatsApp, as fake
Based on the report made available, it was concluded that Biden did not make such a statement and the BBC did not carry such a report
Nigeria – Fresh fact has emerged regarding the viral video and claims of Nigeria being ruled by a dead man and the country's leader died some years ago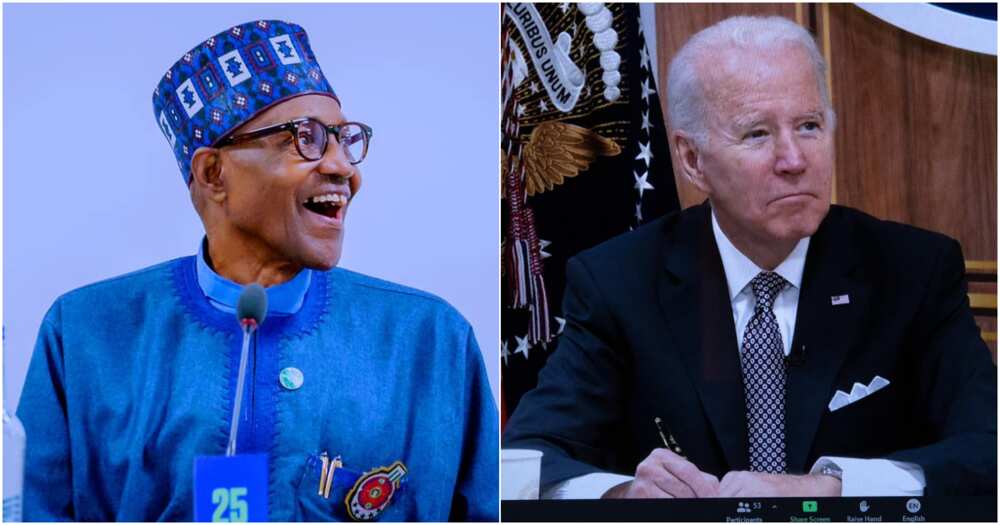 Nigeria was not ruled by a dead man, new findings revealed
A forty-seven-second video making rounds the internet but shared mainly on WhatsApp, suggesting that the President of the United States of America (USA), Joe Biden, confirmed that former President Muhammadu Buhari Buhari died 6 years ago.
The video purportedly showed Sophie Raworth broadcasting on BBC at six reporting on a UK migrant scheme in Rwanda, after which she switched to Biden allegedly saying that Nigeria was ruled by a dead man for six years.
According to the video, Biden said,
"Nigeria is the only country where a dead man has been ruling the country for six years without them knowing."
Verdict
In a fresh verdict from a report by Daily Trust, the claims from the viral video were 'false'.
Verification
In a bid to verify the video, fact-checkers at Daily Trust analysed it, using the Google Reverse Image search. The outcome showed that the video of Biden is deeply fake.
Further checks revealed the change in the contrast and a jump cut in the video. In an extended version of the same news report, Raworth was seen reporting around other issues but nothing came up about Nigeria or the former president.
Conclusion
According to the report by Daily Trust, it is safe to say that Biden did not confirm that Nigeria has been ruled by a dead man in six years and the BBC did not carry such a report. Hence, the claim is false.
Fact check: Was Justice Tsammani's home attacked?
In a piece of related article, Legit.ng reported that a blog, Igbo Times Magazine, posted on its Facebook and Twitter pages that Justice Haruna Tsammani's house was "allegedly set on fire" by thugs.
Justice Tsammani is a notable Nigerian jurist who became more popular when it emerged that he would head the Presidential Election Petitions Court.
Adamu resigned after he realised court nullified Tinubu's election? Fact emerges
A video posted on the popular social media platform, Facebook, claims that Abdullahi Adamu's resignation as the chairman of the All Progressives Congress (APC) is linked to the litigations on the 2023 presidential election.
According to the video, which first appeared online on Monday, July 17 in July 2023, Adamu stepped down after he realised that the Presidential Election Petition Court (PEPC) had nullified the election of President Bola Ahmed Tinubu as the Nigerian leader failed to secure 25% of the votes cast in the federal capital territory (FCT), Abuja.
Source: Legit.ng