Seyi, the son of President Bola Tinubu, has been seen in a viral video dancing to the song of the controversial entertainer Lege Miami
Lege Miami, in the song, described himself as a friend of the president's son and has finally met with Seyi Tinubu
Some Nigerians have started reacting to the video of Seyi Tinubu and Lege Miami, describing it as a federal link-up
FCT, Abuja – President Bola Tinubu's son, Seyi, has been seen in a viral video dancing to the song of a Nigerian entertainer, Lege Miami, who referred to himself as a friend of the President's son.
Lege Miami, whose real name is Kehinde Adam, recently expressed his intention to return to school, pursue a degree, and accept sponsorship from Seyi Tinubu.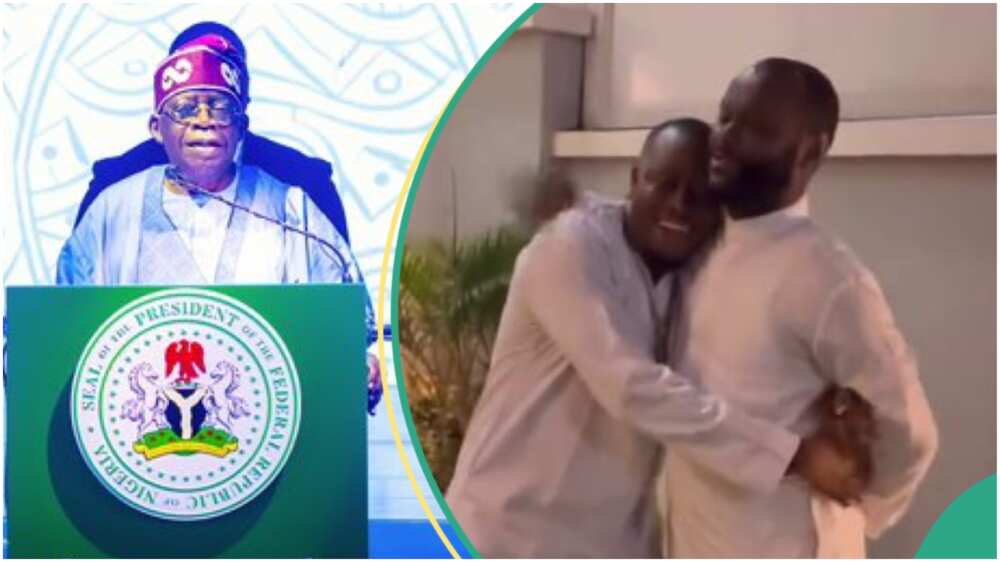 Lege Miami want Seyi Tinubu to send him to school on 1 condition
However, the controversial entertainer said he would accept the sponsorship from Tinubu's son on the condition that he agreed to get him accommodation in his area.
But another video emerged where Seyi Tinubu was seen dancing to the song to the entertainer and hugging him in the video.
Sharing the video, Ayodeji described the moment between the duo as a "federal link up".
Reactions of Nigerians to Tinubu dancing to Lege Miami's song
The video has started generating reactions on social media. Below are some of the reactions:
Faruq A. Tosin said the singer finds his way to success despite criticism. He said:
"Bought his way to success, people called him stupid, and lots, but man didn't back up. You can't meet ST and not be tangible in life. Congratulations to him."
Papa Wemba said the singer would not back down and that his friendship with Seyi Tinubu is by force. He said:
"Lege no go gree, this friendship nah tipatipa."
Adeniyi Sadiq observed that Seti Tinubu was a man of few words. He said:
"One thing I've observed about ST is that he's a shy person."
On his part, Valentine said the president's son was very friendly with the entertainer. He said:
"The crown Prince is so friendly with young entertainers."
Adu suspected that Seyi Tinubu was not comfortable with the excesses of Miami, adding that the president's son should shut the door against the entertainer.
He said:
"I'm sure @STinubu is fed up already. Which kind of casting is this? I think ST need to shut the door on him."
Source: Legit.ng