According to the Islamic calendar, Ramadan is the holiest month. Usually, it is the ninth month of the religion's lunar calendar, and during this time, Muslims across the globe fast and pray. Now that the much-awaited month is here, what are some of the happy Ramadan wishes, quotes, and greetings you will send to your friends and relatives?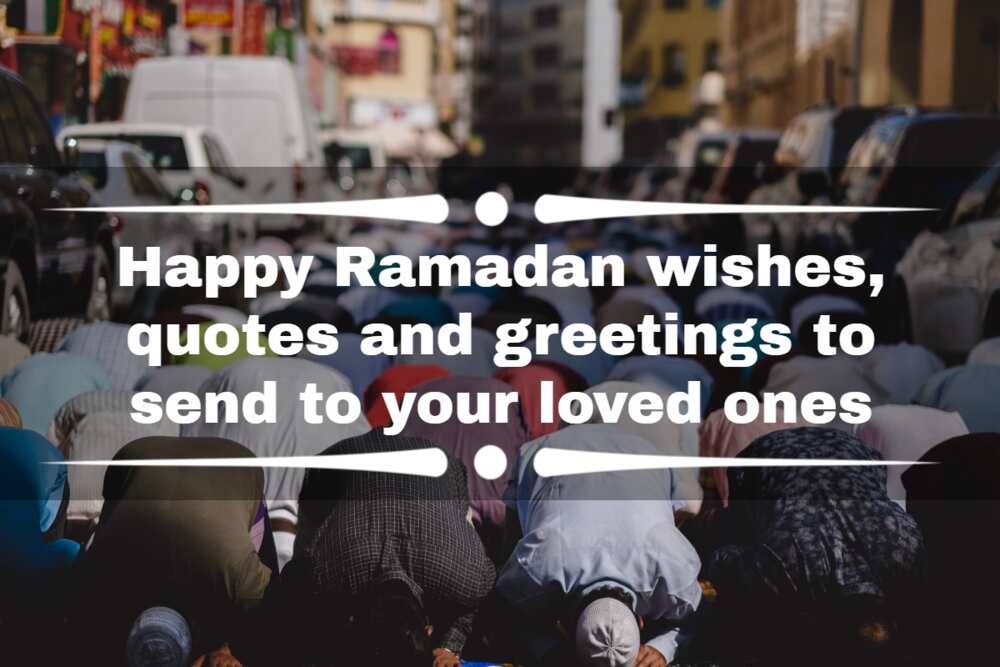 For 30 days, Muslim brothers and sisters will enter into intense prayer and fasting, from dawn to dusk, to mark this annual event. It will be a month-long period of pure reflection and sacrifice as they seek forgiveness and spiritual renewal. The best way to show your unwavering support to them is through these amazing quotes and goodwill wishes.
Ramadan Kareem and Ramadan Mubarak meaning
Before you get at how to wish someone a happy Ramadan, who about a look at Ramadan Mubarak and Ramadan Kareem meaning? Ramadan Mubarak means honoured holy month and can be translated as happy Ramadan, while Ramadan Kareem means generous holy month, and is said to others as a blessing; as if you are saying may the holy month be gracious to you.
Unique happy Ramadan wishes
Muslims observe the event by fasting and devote themselves to Allah through self-sacrifice, seeking forgiveness, and helping the needy. The festival is one of the five pillars of the Islamic religion – the fundamental beliefs that guide believers' faith.
So, how do you send Ramadan greetings? Here is a list of happy fasting greeting suggestions you may consider sending to your friend or family during this period.
Increase in doing good deeds and charity to others. May Allah bring you peace and happiness in your life and your family. Happy holy month.
Let this graceful month enlighten all our darkness, wash away our sorrows, and ease our pains. May our prayers get accepted from the Almighty! Ramadan Mubarak.
Keep the faith and be patient in prayer. Wait for Allah to fulfil your visions.
I wish you to be showered with loads of blessings come from our almighty creator Allah.
Let this divine season wash away your burden, lighten the darkness and ease the pain you may have at this moment. Allah, the Almighty, will indeed bless you with all the best things in life. Just repent, worship, and pray. Happy holy month!
May this holy month enlighten you and clear your understanding and judgment between right and wrong, between the truths and false. I wish you a fantastic holy month!
Ramadan is not only for fasting but also to feed the hungry, help the needy, guard our tongue, not judge others and forgive.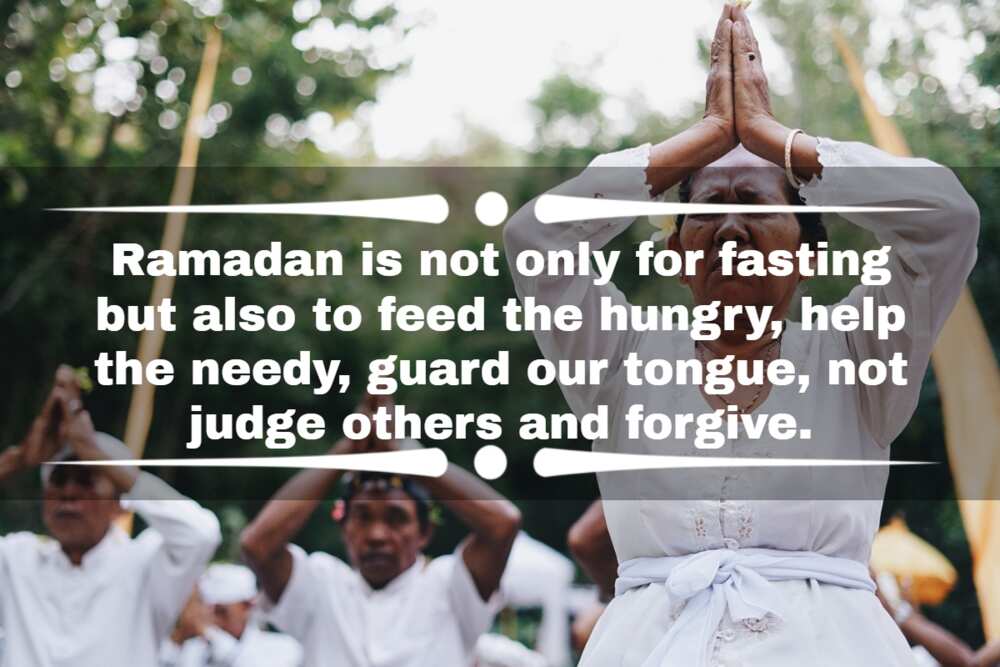 This month is full of blessings and wisdom. May the greatness of Allah fulfil your desires and dreams. Happy and blessed holy month.
Welcome the month of Ramadan with a heart filled with peace, harmony, and joy. May the blessings of Allah protect and guide you.
May this holy month be successful for all of us and provide us with good health and wealth.
I pray to Allah that He protect your family from evil and make your kids better person.
During this beautiful and blissful holy month, I want the entire humanity to be safe, happy and peaceful.
May this day bring happiness, peace and prosperity to everyone.
Ramadan is a month of Allah, whose beginning is mercy, the middle is forgiveness, and the end is freedom from fire.
May the spirit of holy month illuminate the world and show us the way to peace and harmony.
Wish you a blessed holy month that will inspire you with courage and strength to win every challenge of life!
As you pray and fast this holy month, may all your wishes come true Enjoy the long-lasting blessings of Allah. Ramadan Mubarak!
May Allah save you from the influence of the devil and grant you the divine blessings of Almighty Allah to protect and guide you.
My friend, Welcome to the holy month of Ramadan. And hope you will keep a distance from all kind of sinful behaviour. Make an increased offering of salat and recitation of the Holy Koran. I wish you all blessings.
My friend, have a peaceful and happy holy month!
Happy Ramadan quotes to inspire your loved ones
Are you looking for how to say happy Ramadan to your friends? You could express holy month wishes to your friends through cool quotes. Fortunately, there are several quotes used to motivate Muslims during the festival. Here are some of the famous sayings.
Allah says: O you who have believed, decreed upon you is fasting as it was decreed upon those before you that you may become righteous. – The Holy Koran (2:185).
Whosoever recites only one 'Ayat' in Holy Ramadan. He will be awarded as if he had recited the entire Quran in other months. – Prophet Mohammed (SAW).
Have you ever wondered why we are happy in Ramadan? Because we do what we were created to do. – Sh. Alaa Elsayed.
Whoever fasts in the month of Ramadan out of sincere faith, and hoping for a reward from Allah, then all his previous sins will be forgiven. – Sahih Bukhari.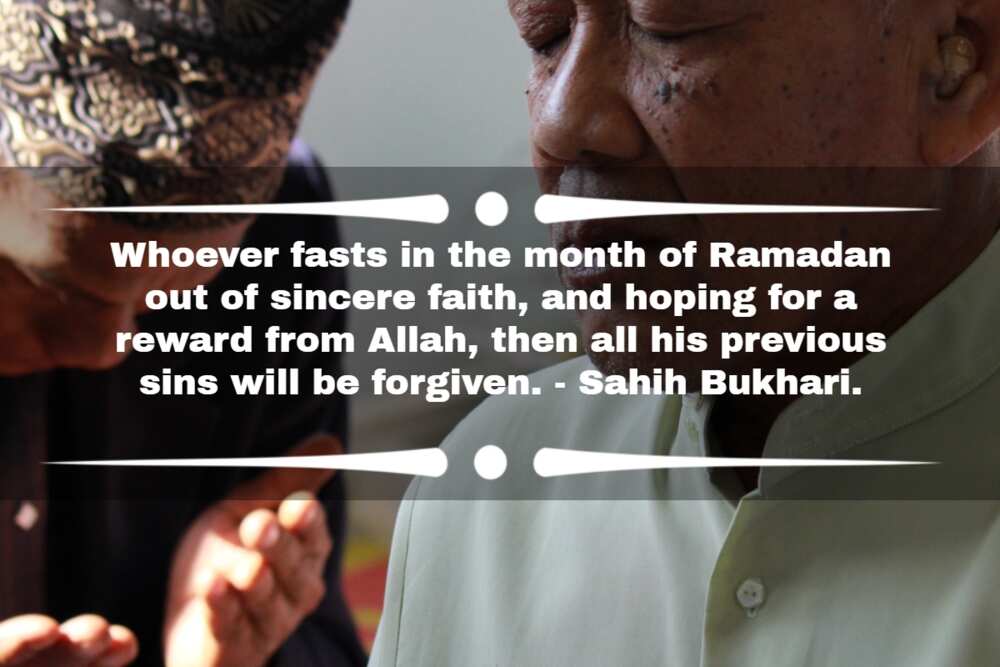 Fasting is the shield; it will protect you from the hellfire and prevent you from sins. – Prophet Muhammad (PBUH).
We observe that in the scriptures, fasting almost always is linked with prayer. Without prayer, fasting is not complete fasting; it's simply going hungry. – Joseph B. Wirthlin.
Periodic fasting can help clear up the mind and strengthen the body and the spirit. – Ezra Taft Benson.
Turn your face towards the Sacred Mosque, and wherever you are, turn your faces towards it. – The Holy Koran (2:150).
When the holy month starts, the gates of heaven are opened, the gates of hell are closed, and the devils are chained. – Sahih Al Bukhari.
He has left his food, drink, and desires for my sake, and the fast is for me. So I will reward (The fasting person) for it, and the reward of good deeds is multiplied ten times – Sahih Al Bukhari.
Ramadan Mubarak WhatsApp messages
To wish someone a Ramadan Mubarak is the same as telling them, happy or blessed holy month, where Muslims pray for blessings. The best reply for this greeting is "Khair Mubarak," which means you wish goodness to the person who greeted you.
Ramadan is a religious journey that takes the Muslim's rights to Allah, a place full of happiness and mercies.
I pray that the holy month will be kind enough to give you joy and happiness both to you and the ones whom you loved dearly.
May you receive the best wishes as you welcome the holy month, and may it bring with it remarkable spiritual growth and great family times.
I hope that the upcoming festivity will be the best one for all of us.
As we celebrate this festive season, let us learn to forgive the ones who have done us wrong for the sake of Allah.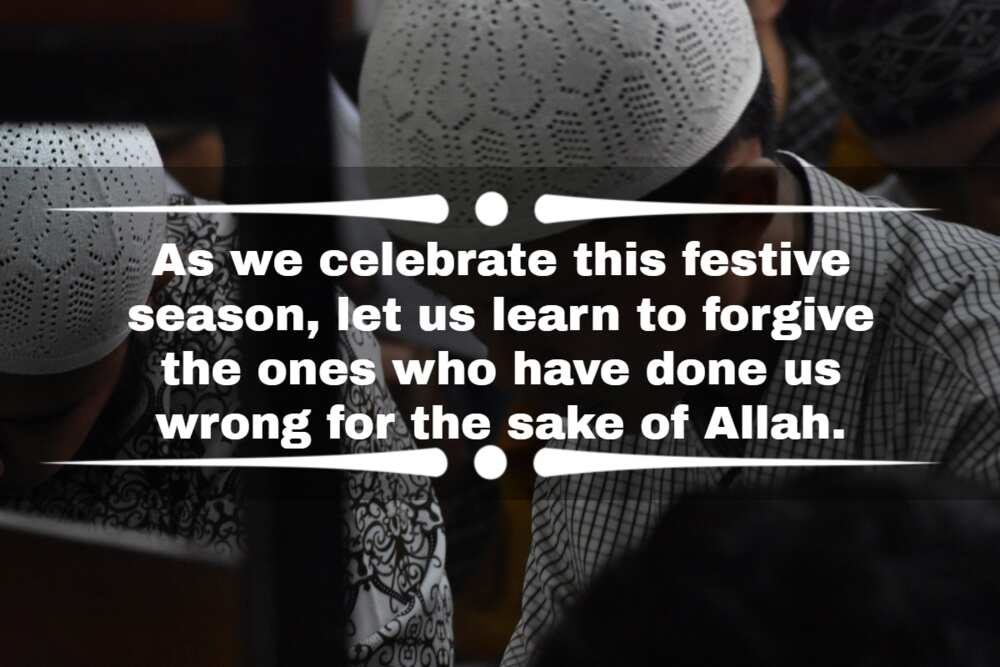 Welcome the month of Ramadan with a heart filled with peace, harmony and joy. May the divine blessings of Allah protect and guide you.
May Allah prolong our lives so that we can witness a blessed holy month.
Allah's blessings will always be on us. Celebrate and enjoy! Once again, we will be given a chance to ask for forgiveness for our sins and be forgiven. Ramadan Mubarak!
After the sight of the crescent moon, may you find the leading source of bliss and joy! Enjoy each enlightenment moment of Ramadan! Be blessed!
I hope that during this festivity, Allah will show us the way and keep us united.
As you pray and fast, remember that the only way Allah will fulfil your heart's desires is through genuine forgiveness.
Ramadan is not a short increment in our religious practices but rather a glimpse of exactly how our daily lives ought to be.
Humility for prosperity, sacrifice for blessings, bended knees for rewards. My heart is laid down for worship to Allah, who deserves all these. Ramadan Kareem!
Muslims all over the world greet each other to have a blessed holy month.
May this festivity comes to change your heart and not your schedule.
I hope that I will be the first to offer you my holy month special messages to remind me of Allah's goodness to his people.
Cool Ramadan greetings in English
Greeting during the holy month are meant to show support and wish people many good rewards during the prayer and fasting period. So, how do you wish someone a blessing in Ramadan? Here are some greetings you can use.
As you fast and offer prayers to Allah, may you find your peace and happiness. Have a peaceful and happy Ramadan!
Whenever you feel alone and sad, remember that God is with you. He will never leave you alone and always guide you. Ramadan Mubarak!
I wish you all the blessings of the holy month.
May Allah bring lots of happiness and blessings to your lives. Happy Ramadan Kareem!
Always remember my family and me in your prayers. God Bless you all and have tons of wishes for the holy month from us.
O Allah, forgive us for all our sins and take us in your blessings and happiness. We are very weak; give us the strength to fight against immorality.
Humility for prosperity, Sacrifice for blessings, Bended knees for rewards, heart laid down for worship To Allah who deserves these all. Ramadan Kareem!
May the holy essence of this auspicious month remain in your heart and life!
May Allah send his love like sunshine to fill every corner of your heart and your life with lots of happiness in his warm and gentle ways. Happy Ramadan Kareem!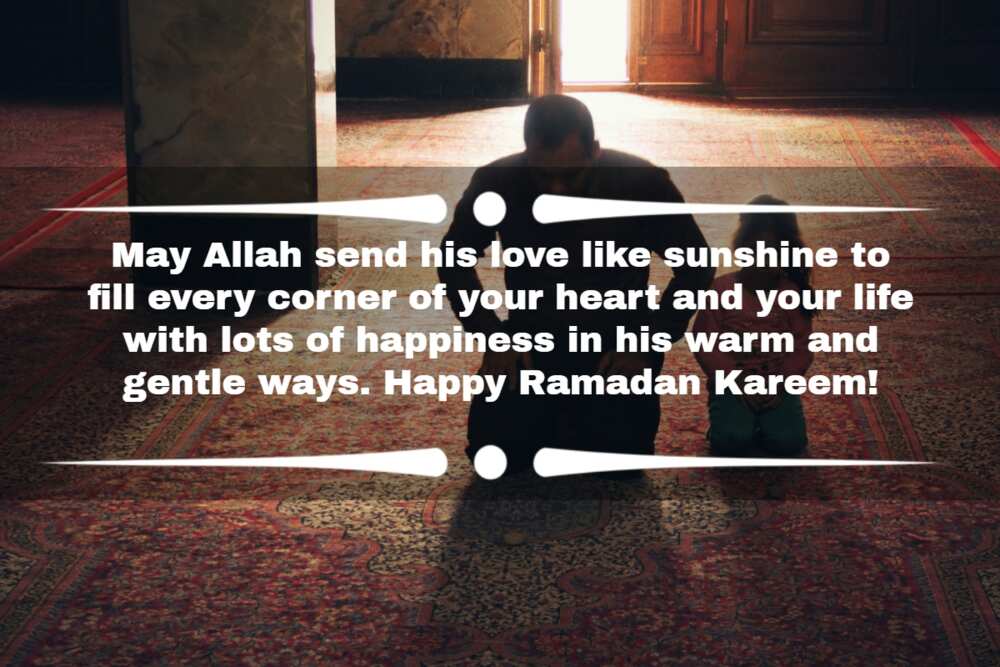 May this month of Ramadan be fruitful. Here's wishing you to receive the most delightful gifts of the holy month. Ramadan Kareem!
Four weeks of mercy, 30 days of worship, 720 hours of spirituality. The 43,200 minutes of forgiveness, 2592000 seconds of happiness. Blessed holy month!
May you be guided by your faith in Allah and shine in his divine blessings! Happy holy month.
For this holy month, I wish you get gifted with Allah's blessings and many treasured moments of joy! Ramadan Mubarak!
As you feast on your Iftar, I pray nothing but good health and prosperity to your family and friends. May you share it with love on your loved ones.
Additional happy Ramadan quotes and wishes
What are some other standard greetings and blessings said to Muslim family and friends on this auspicious event? During the holy month of prayer and fasting, Muslims have specific ways of addressing each other.
Unfortunately, some people do not know how to greet their friends. Here are more Ramadan Kareem wishes you can use.
Welcome, walk humbly, talk politely, dress neatly, treat kindly, pray attentively, donate generously, may Allah bless and protect you! Ramadan Mubarak to you and your family.
Never try to tell a lie that drags you to the gate of hell. Ramadan Mubarak!
In front of Allah, every human being is equal, and it is a selfish activity for a true Muslim to discriminate among the human race.
Allah fulfils all desires if work can be done for the welfare of humanity. A homeless child can be housed through donations. With this, Allah gives you every happiness in your life.
Think every day is Ramadan and keep calm, concentrate on the name of Allah, who is beyond your thoughts. Ramadan Mubarak!
According to the Quran, on the final day of judgment, every sin done in life will be counted, and the holy month is the opportunity to seek forgiveness from Allah. I wish you a happy and fulfilling period!
Persons who are true Muslims never forget Allah until their death, because they know death is the truth. Ramadan Mubarak!
In the month of Ramadan, try to be very close with the name of Allah, and you will feel like you are in heaven and the devil is running away from you.
The whole nature of trees, animals, and birds are praying to Allah and by following the rules of Allah always maintain them at their home of nature brought them by Allah.
There you have it! It has been a tradition to see people send their happy Ramadan wishes, quotes, and greetings to family and friends through phone messages and social media platforms. Now you know the best wishes to send to a friend or a relative during this month.
READ ALSO: Memorable Ram Dass quotes on love, death, fear, aging, and healing
Legit.ng recently published a list of memorable Ram Dass quotes. Richard Alpert, popularly known as Ram Dass, was an American spiritual teacher, psychologist, and author. He authored and co-authored numerous books, including Be Here Now.
Ram Dass covered spiritual, love, fear, and life topics in all of his work, and one of his best tricks was to use humour to break through the mind's barriers. Here are some of his favourite quotes.
Source: Legit