Nollywood actor Femi Adebayo recently released a movie, Jagu Jagun, on Netflix and the reviews have been great
To affirm the great reviews about Lateef Adedimeji's performance in the movie, his wife, Mo Bimpe gushed over him online
The actress shared a video of her husband in pain and revealed he broke his leg on the first day on the mobile set
Lateef Adedimeji's wife, Mo Bimpe, has praised his hard work, dedication, determination and talent in a Femi Adebayo Netflix movie, Jagun Jagun.
In the post on her page, the actress shared a video of her husband as he got his leg massaged in visible pain after breaking it on the first day on set.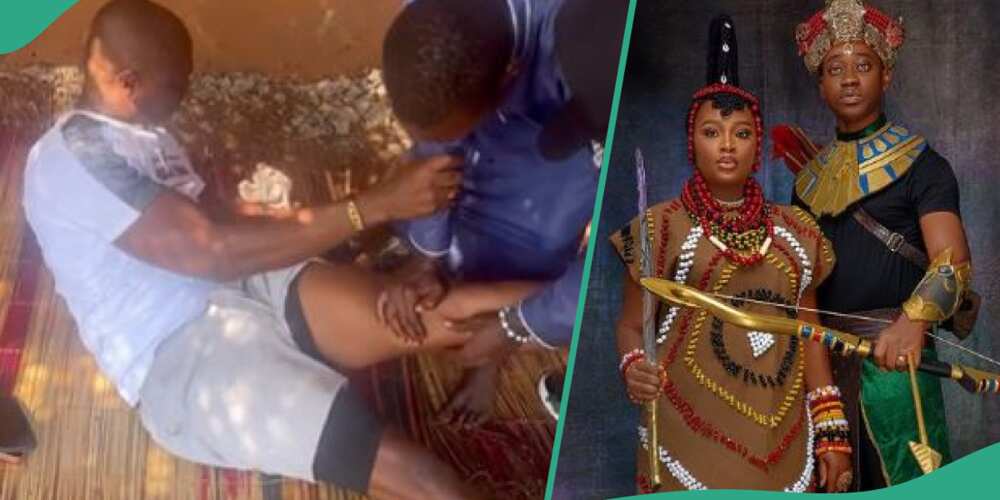 Mo Bimpe added that despite how much pain he was in off set, the actor went on with filming for over 30 days and gave a beautiful performance.
She gushed over her husband and expressed how much joy fills her when she sees a review of Lateef's performance.
PAY ATTENTION: Share your outstanding story with our editors! Please reach us through [email protected]!
The actress also added:
"Each time I see a review of the movie since the premiere on Wednesday, I feel emotional, happy and so contented because I know what GBOTIJA had to go through to give us this spectacle. It wasn't easy! But this man stood strong all through. To my very own superstar @adedimejilateef ⭐️ Dear husband, YOU ARE MY SUPERHERO ."
See the post below:
Netizens praise Lateef Adedimeji
iteledicon01:
"@adedimejilateef SHEU, Openi fun Olorun❤️❤️❤️ keep moving actor"
lolade_okusanya:
"So that limping in the movie was real? Now I respect him a billion times more. We love you sir and thank you ma for being such a great support❤️❤️."
olayodejuliana:
"Who would have known that he broke his leg and was in pain while shooting the entire movie?????? Na actor you be baba, I don tell you to send you account number make I give you all my money!!!"
yetundebarnabas:
"That sorry lasan I can imagine the pain u are going thru urself watching him."
mydemartins:
"We are all proud of him!!! His strength and performance in the movie was marvelous. We pray for Allah's healing on him. And we also appreciate you too his support system @mo_bimpe for standing by him. May Allah continue to bless your union. Congrats @adedimejilateef we celebrate you hero "
tiernyolalere:
"Awwww, the sorry from your voice lasan shows you were also holding your tears Kai if man Dey cry like this I can't imagine, welldone Tripple A , the support you gave, gave him strength too ❤️ @mo_bimpe."
What did Lateef Adedimeji do at Jagun Jagun premiere?
Nollywood actor Lateef Adedimeji could not hold back his tears at the screening of his senior colleague Femi Adebayo's Jagun Jagun movie as he finally had the opportunity to see it become a reality.
Lateef bowed to Femi in the video as he addressed those present at the private screening, where he opened up on the challenges he faced as a cast on the movie.
Lateef, who broke down in tears, said he shot the movie in pain as he broke his leg and almost gave up, but Femi Adebayo's constant encouragement at the movie location kept him going.
Source: Legit.ng