– The Nigerian Senate is making efforts to discourage the payment of ransom to kidnappers
– Senator Ezenwa Francis Onyewuchi is sponsoring a bill to this effect and it has scaled second reading
– The lawmaker explained that ransom payment must be discouraged, noting that it does not even guarantee safe release of victims
PAY ATTENTION: Join Legit.ng Telegram channel! Never miss important updates!
A bill that seeks to prohibit the payment and receipt of ransom for the release of any person kidnapped or wrongfully confined was on Wednesday, May 19, considered at the Senate.
The bill proposes 15 years imprisonment for Nigerians who pay ransom to kidnappers and kidnappers who receive ransom, The Punch reported.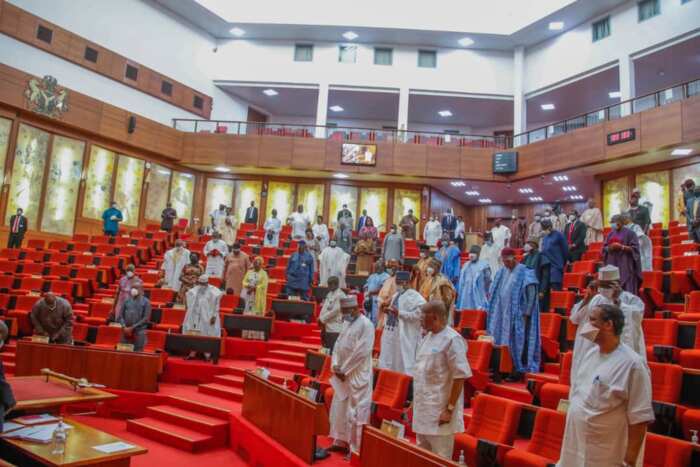 Legit.ng gathers that the bill officially named Terrorism Prevention (Amendment) Bill, 2021, is sponsored by Senator Ezenwa Francis Onyewuchi.
It was also learnt that the bill scaled second reading during plenary on Wednesday.
Leading debate, Onyewuchi said the bill seeks to amend the Terrorism (Prevention) Act, 2013 to outlaw the payment of ransom, Daily Trust also stated.
He added that the bill essentially seeks to substitute for section 14 of the Principal Act a new section to read:
"Anyone who transfers funds, makes payment or colludes with an abductor, kidnapper or terrorist to receive any ransom for the release of any person who has been wrongfully confined, imprisoned or kidnapped is guilty of a felony and is liable on conviction to a term of imprisonment of not less than 15 years."
The lawmaker raised an alarm that kidnapping has become a lucrative business in the country.
He claimed:
"The reason behind payments of ransom is rooted on the fact that people easily identify with individual suffering.
"However, History has shown that even where ransom is proven to have been paid, the life or safe return of a kidnap victim may not be guaranteed."
Onyewuchi called on the government to provide adequate security and strengthen the economy as a matter of urgency.
Nigerians react
Ayeebameru Omowaiye said on Facebook:
"They have started again. Anybody that gives bribe is also guilty; both the taker and the giver are culpable, and so when you report a case of bribery that they collect from you, your will be arrested for giving a bribe. So now, nobody will report kidnapping again."
Olomolehin Daniel Abiodun said:
"Really? Clueless government, we've all been clamoring for death penalty for embezzlement and corrupt politicians and no law has been pass to that effect up until now."
Talabi Babajide D'belove said:
"If the govt provided adequate security, job opportunities, we wouldn't have been in this situation. You beats a child and expect him/her not to cry"
Charles Konikov said:
"We really need to know the exact Senator and his constituency who proposed that bill so we know exactly where our problems are coming from?"
Gbenga Ibigbami said:
"Instead of going after kidnappers, you are discussing about those giving ransom to free their loved ones being kidnapped. Nigerians on a one chance situation."
Buhari warns against ransom payment
Meanwhile, Nigerian governors have been warned to stop the policy of rewarding bandits with money and vehicles to avoid dire consequences.
The warning was given on Friday, February 26, by President Muhammadu Buhari, saying the culture of compensating hoodlums by some state governments may lead to disastrous consequences.
Legit.ng gathered that the president disclosed this while reacting to the abduction of hundreds of the students of Government Girls Secondary School, Jangebe in Zamfara state, noting that the abduction was inhumane and totally unacceptable.
PAY ATTENTION: Install our latest app for Android, read best news on Nigeria's #1 news app
Obasanjo on ransom payment
In a related development, Nigeria's former president, Olusegun Obasanjo, has also offered pieces of advice on how to tackle the security crisis in the country.
To fight the insecurity challenges to a standstill, Obasanjo said Nigeria requires a "carrot and stick" approach. In simple terms, the "carrot and stick" approach implies the use of a combination of reward and punishment to deal with the security crisis.
He also advised against the payment of ransom, noting that it encourages criminals to continue their illegal activities. Obasanjo added that to avoid paying ransoms, the government "must have the means to deal heavily with" the security challenges.
Source: Legit