One of Nigeria's most talented fashion designers, Araoluwa Poopola, recently opened his much-anticipated showroom in Lagos and gave people a tour of his exceptional fashion craftmanship
The showroom opening was attended by some of the creme de cremes of the Lagos high-end society, including royal fathers like Oba Elegushi, the Osi of Egba land and many more
Legit.ng was at the showroom opening to witness Aramanda's exceptional men's fashion and fabrics, where he revealed exclusively to us the most anyone has ever paid him for an outfit
"Fashion is you. It is what you make of it. Your style is your style. The best of fashion is nothing but an expression of who you're in the true sense of it." Aramanda
Many know him as Aramanda, and to some, it is simply Ara, but his maiden name is Araoluwa Popoola, son of a former Chief Justice of Nigeria.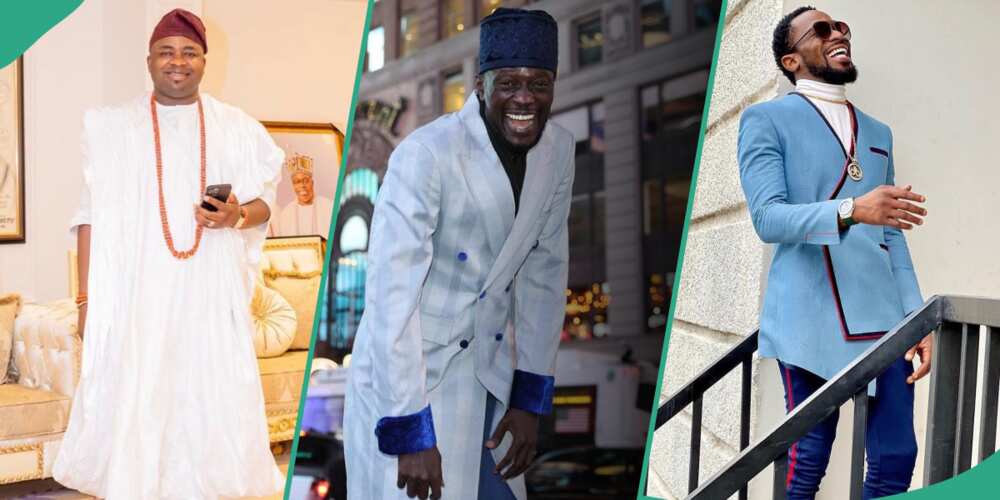 He recently opened his fashion showroom in Lagos, allowing a selected privileged few an exhibition of his fashionistic craftsmanship.
Ara recently spoke with Legit.ng's Nosa Oke-Hortons, where he revealed what his biggest drive is when it comes to fashion.
During the conversation, he also revealed why he feels eternally indebted to veteran comedian Ali Baba for trusting him with his fabric when many others didn't.
"How it all started in father's garage" – Ara shares
Does it sound cliche? Yeah, it might, but not for many Nigerians' this is more of what you would hear about American millionaires and billionaires. But it isn't, mainly how many Nigerian success stories start. When we asked Ara how his journey to becoming a fashion designer started, he said:
"It all started in my father's garage. In my father's garage was an abandoned sewing machine that I usually jumped on and used for all sorts of things. But Aramanda became a thing in 2011, and in 2013 it became official."
"Fashion has taken me all over the world" – Araoluwa said
Ara spoke about the power, influence and fame fashion has brought him. He shared a little about the different places around the world he has been to, and it was nothing else but fashion that gave him those rare opportunities.
"I can't say this person or just one person is my biggest client. I have been to America, different parts of Europe, East Africa, and Addis Ababa; fashion has taken me all over the world. So saying that this is my biggest client would be a slap to some people."
Why my father was my biggest inspiration – Aramanda shared
The internationally renowned fashion designer revealed where his drive for perfection and exquisite taste came for, he said:
"My father, when I was young, was a judge of the High Court, so I see him always well dressed, clean and dapper every morning. The pocket square here, tie here, suit there, shirt there, everything is always well arranged. Even the colours they're always matching. And I loved to draw, and he would always put it in my head that I had to dress well all the time. That was my foundation for fashion."
He continued saying:
"Growing up, all of this kind of instilled an inner desire for me to always strive for perfection, especially in my craft as a designer. I can make ten design drawings in 5 minutes. That is how good I am at this."
Ali Baba is the one person that gave me a reason to keep going – Ara shares how the veteran comedian helped him
"Ali Baba is the first celebrity that paid to make an outfit for him. I might be able to explain how much Ali Baba has helped me, but I would always appreciate him for trusting me with his fabric."
My most expensive piece yet cost $10k – celebrity stylist reveals
After seeing the repertoire of personalities at the official showroom opening of Araoluwa, we were forced to ask him how much he charges for some of his outfits, and he said:
"My most expensive piece today went for $10,000. Though it was for someone in Nigeria."
You would be surprised to know that Ara is the official suitmaker of the Mayor of Houston, Texas, Sylvester Turner.
Fashion designer opens up about making her own traditional wedding dresses
Meanwhile, Legit.ng recalls reporting that every lady knows that one of the major budget-consuming aspects of planning one's wedding is designing your dream ensemble(s).
Well, things in the wedding fashion department tend to be much less expensive when you're a fashion designer.
This is something Cynthia Hembafan Baiye understands all too well, as she made sure to apply that for her special day.
Source: Legit.ng