Uduak Frank Akpan has made more confessional statements about the killing of Iniubong Umoren, a philosophy graduate of the University of Uyo, Akwa Ibom state.
PAY ATTENTION: Join Legit.ng Telegram channel! Never miss important updates!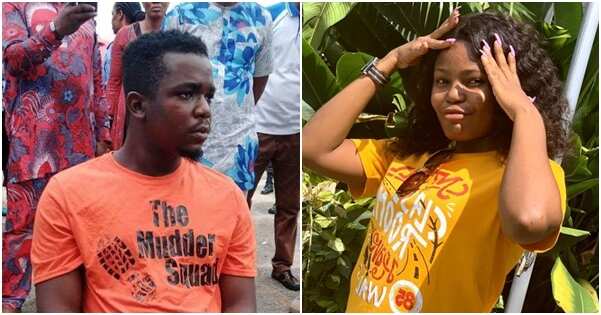 The suspect made the statements on Friday, May 14, when he was paraded at the Akwa Ibom state police headquarters, Ikot Akpan Abia, Uyo.
Akpan in the videos of his confessions admitted to killing the lady.
Legit.ng has listed below some of the confessions made by the suspect.
1. Akpan said the job interview he advertised was fake
2. The suspect stated that he used reverse psychology to lure Iniubong Umoren
3. He stated that he lured Umoren to avenge how ladies have mistreated him
4. Akpan claimed the late Iniubong Umoren told him that she takes marijuana and cocaine
5. He said he used s stabilizer and a pressing Iron to kill his victim
6. Akpan claimed he killed the lady in self-defense
PAY ATTENTION: Install our latest app for Android, read the best news on Nigeria's #1 news app
7. The suspect stated that he buried her out of fear
8. He confessed that he has used the tactics on about 6 other victims who he did not kill
9. Akpan said his father did not assist him in the crime
10. He claimed the books and other items found at his residence belongs to his family
11. Akpan claimed he is a university student
12. He said he is ready to die if justice demands it
13. The suspect stated that he is remorseful for what he has done
Meanwhile, some Nigerians have called on the authorities to sentence Uduak Frank Akpan to death for the killing of Iniubong Umoren.
The concerned citizens told Legit.ng that only the death penalty would be a fitting punishment for the offense.
When asked about what punishment would best fit the crime, Anumba Onyinye told Legit.ng that Uduak Frank Akpan deserved to die for his alleged crime.
Onyinye who is a student of the University of Nigeria, Nsukka, however, called on the suspect should name his fellow accomplices before he faced capital punishment.
She said:
"He should spill the names of those politicians and pastors patronizing and sponsoring him, then after that, he can die."
Onyinye's stance was backed by Nmecha Onuoha Victor, another commentator who stated that justice must be done over the killing.
Victor, who is also a student of the University of Uyo, Akwa Ibom State, the same institution from which the late Iniubong Umoren graduated, said the incident was a sad one.
He told Legit.ng that Akpan's other accomplices should be found and sentenced accordingly.
Victor said:
"His death is not enough, his accomplices should face the law for justice to really take its full course."
Another Nigerian, Emmanuel Inueonwi, who seemed pained about the killing of Iniubong Umoren told Legit.ng that the suspected killer should face severer punishment.
Inueonwi stated that:
Dying is an easy one, but with unimaginable pain."
In another news, the bereaved family, relatives, and friends of late Iniobong Umoren on Friday, May 14, paid their last respect to her in Akwa Ibom state.
Amid tears and wailings, the remains of the jobseeker were laid to rest less than a month after she was murdered in her search for employment.
Source: Legit