President Bola Tinubu has been urged to be wary of his steps to avoid the occurrence of Niger's political instability in Nigeria
Fr Ejike Mbaka, the spiritual leader of the AMEN, said the President needs to submit himself to the will of God so that He (God) can use him to redeem Nigeria
The cleric said the failure of the President to listen to him would lead to a catastrophe beyond expectations, in which he did not know when and how
Enugu, Enugu – Rev. Fr. Ejike Mbaka, the spiritual leader of the Adoration Ministry in Enugu, Nigeria (AMEN), has foreseen a political instability worse than that of the Niger Republic in Nigeria, citing the unemployment rate in the country.
In a video posted on the church's official page, the cleric warned that God is watching President Bola Tinubu and that the presidency will get it right in fixing the country if the President can submit himself to the will of God.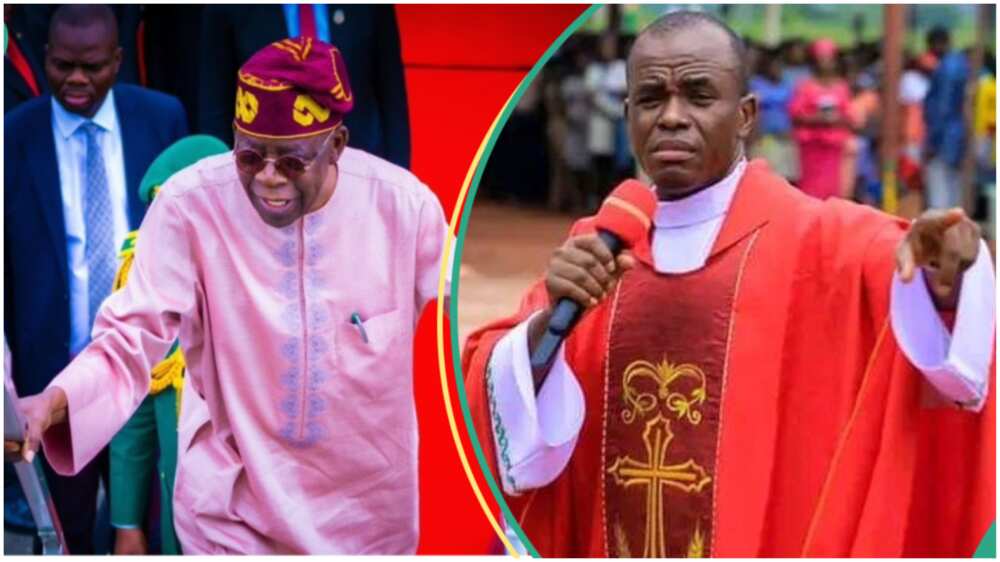 Fr Mbaka, during the ministration, decried the state of the nation, particularly unemployment, adding that it was a situation that should be addressed with urgency.
Fresh prophecy reveals against President Tinubu
According to the religious leader, the cleric called on President Tinubu to seek the face of God as soon as possible or face drastic consequences in a short period of time.
PAY ATTENTION: Share your outstanding story with our editors! Please reach us through [email protected]!
In the video, Fr Mbaka said:
"The rate of unemployment in Nigeria is too much. Heaven is watching President Tinubu. If Tinubu submits to the power of God, God will use him to redeem Nigeria. If President Tinubu does not want to seek the face of the Lord, I see something worse than what is happening in Niger will happen in Nigeria. I don't know how and when it will happen, but the Spirit has revealed it unto me."
Mbaka is one of the numerous Christian leaders that prophesizes the growth of things in Nigeria.
See the video here:
"It doesn't matter who is the president": Fr Mbaka speaks on Nigeria's agony
Legit.ng earlier reported that Father Ejike Mbaka, the spiritual leader of the Adoration Ministry Enugu Nigeria (AMEN), has spoken about the dilemma of Nigeria.
The cleric said despite the increased cost of living in the country, God will never leave the country to its problem.
Mbaka said God would see Nigeria through while he prophesized that the country would live in abundance soon.
Source: Legit.ng