– Femi Adesina has opened up on the deplorable state of Nigeria's security
– The presidential media aide on Thursday, April 29, admitted that the country is struggling with the menace of terrorism
– Adesina, however, advised Nigerians to look up to God in prayer as their beloved nation is sure to rise again
– President Buhari's aide also pointed to Pastor W. F. Kumuyi as one Christian cleric citizens should emulate
PAY ATTENTION: Join Legit.ng Telegram channel! Never miss important updates!
A special assistant to President Muhammadu Buhari on media and publicity, Femi Adesina, has stated one incontrovertible fact: Nigeria is dealing with serious security challenges.
Adesina opened up on this truth in a Facebook post on Thursday, April 29, titled, Nigeria will fly again: We can believe Kumuyi.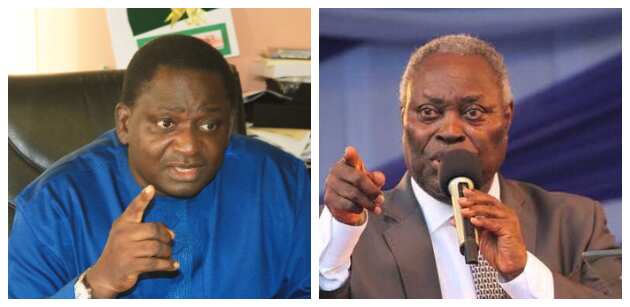 In his analogy, the presidential media aide noted that it seems all hell has broken loose against the nation and its citizens.
However, he noted that since darkness cannot over light, the giant of Africa will rise on its feet again with the help of God.
His words:
"Nigeria has severe security challenges. It's like hell has opened against the country, and foul creatures, evil through and through, have been unleashed against the land.
"But have we ever seen darkness overcome light, and evil hold sway over good? No, and never. We shall overcome. Nigeria shall fly again."
Directing Nigerians' attention to a message by Pastor W.F. Kumuyi of Deeper Life Ministry, Adesina noted that stereotyping, stigmatisation, and pointing accusing fingers at specific ethnic groups are actually parts of the problem, not the solution.
Adesina asserted that the country will be a better place if nationals can emulate clerics like Kumuyi.
He noted:
"Let France have good mothers, and she will have good sons," Napoleon Bonaparte said. And I extrapolate it to say: let Nigeria have good preachers in the mould of WF Kumuyi, and she will have good citizens."
He also called on fellow citizens to disregard prophets of doom who preach hate towards others to their congregations.
Buhari's aide wondered:
"Do those other preachers read copies of the Holy Bible different from the one Kumuyi reads? I wonder. Why are they then full of bile and ill will against their country and the leadership?"
Meanwhile, the chairman, House of Representatives committee on the army, Honourable Abdulrazak Namdas had lamented the deteriorating state of insecurity in the country.
According to the All Progressives Congress (APC) lawmaker from Adamawa state, things are getting worse. Namdas made the comment while featuring on a Channels Television political programme on Wednesday, April 28.
Source: Legit