– Manchester City vs Chelsea Champions League final lived up to its pre-match razzmatazz
– It was fight to finish at the Estadio do Dragao but the Blues emerged victorious on the night
– A 42nd minute strike by Kai Havertz was anough to hand Chelsea the prestigious title
PAY ATTENTION: Join Legit.ng Telegram channel! Never miss important updates!
Chelsea have emerged winners of this season's UEFA Champions League after a 1-0 win over English rivals Manchester City at the Estadio do Dragao in Portugal.
Kai Havertz' lone strike in the 42nd minute was all Thomas Tuchel's side needed to be crowned champions of the tournament in style.
Manchester City made their intentions known in the early stages of the encounter and in the 10th minute, a good counter-attack from the Citizens from the left flank saw Raheem Sterling send in a dangerous cross into the Chelsea box, but Ben Chilwell did well with a good clearance.
In the 17th minute, Chelsea came close when Chilwell found Kante inside the City box from the left flank, but the latter's aerial header went well over the crossbar.
And on the half-hour mark, a brilliant pace from Walker to cross-in a dangerous ball inside the Chelsea six-yard box from the right, and it was too good for Gundogan who failed to connect it.
Three minutes later, ther a good build-up from Chelsea forwards around the City box, but they failed to found the opening for a clear chance.
Chelsea then opened the scoring in the 42nd minute when Kai Havertz found the back of the net in spectacular fashion.
Goalkeeper Edouard Mendy passed left to Chilwell, who found Mount in the middle. Mount then played a first-time ball ahead, cutting City defenders in the middle.
Havertz raced through the gap of the City defence, forcing keeper Ederson to come out of the box as the German got past the keeper and shot it into an empty net. 1-0 Chelsea.
Desperate Manchester City came strong in the second half and they won a freekick in the Chelsea danger area in the 48th minute.
Kevin De Bruyne's effort was however weak and went straight to Kante on the edge of the Chelsea box. No trouble for Chelsea.
In the 52nd minute, it was a good tackle by N'Golo Kante to grab the ball away from De Bruyne on the edge of the Chelsea box.
As at the 75th minute, City forwards fail to enter the Chelsea box again after a good possession game around it as Chelsea were closing in.
However, despite six minutes added time after the 90th minute, City fail to find the back of the net and Chelsea are champions. It ended; Manchester City 0-1 Chelsea.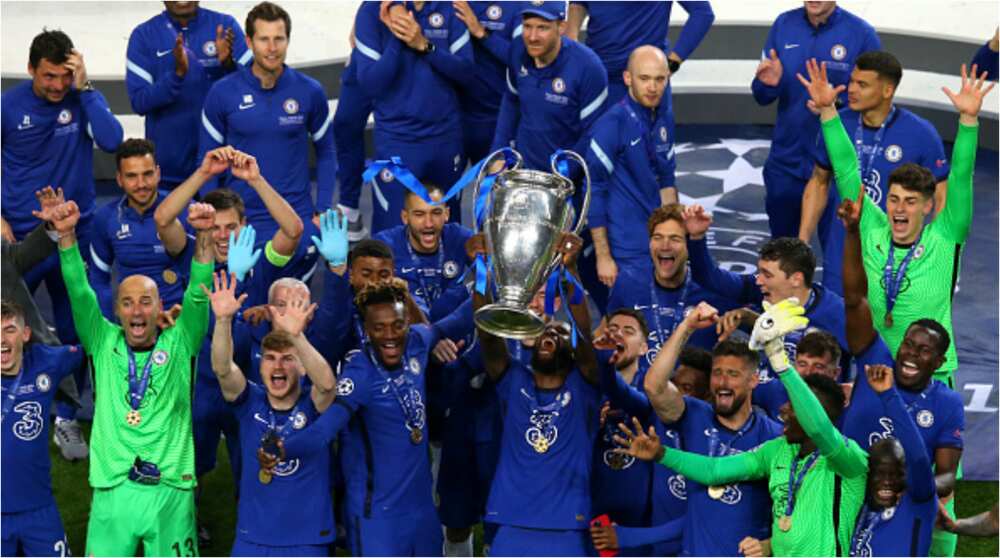 Meanwhile, Legit.ng reported that Chelsea manager Thomas Tuchel earlier vowed to go drunk if his Stamford Bridge side defeat Manchester City to win the Champions League.
And the ex-Borussia Dortmund manager has admitted he wants to wake up on Sunday with a hangover – even if it a few gin and tonics. Tuchel told Telegraph, via Daily Star:
"I will get drunk because that is easy, two gin and tonics, and that's it.
"But then I can take a third one and a fourth one, and feel actually pretty normal again and then the fifth one makes me, again, drunk."
Source: Legit.ng