Parents will do anything to make their babies look and feel good. Besides providing food and care, parents ensure their kids dress well. And what is the best to achieve this, if not through Ankara styles for babies? If you are looking for the cutest way to style your girl or boy, here are some suggestions to consider.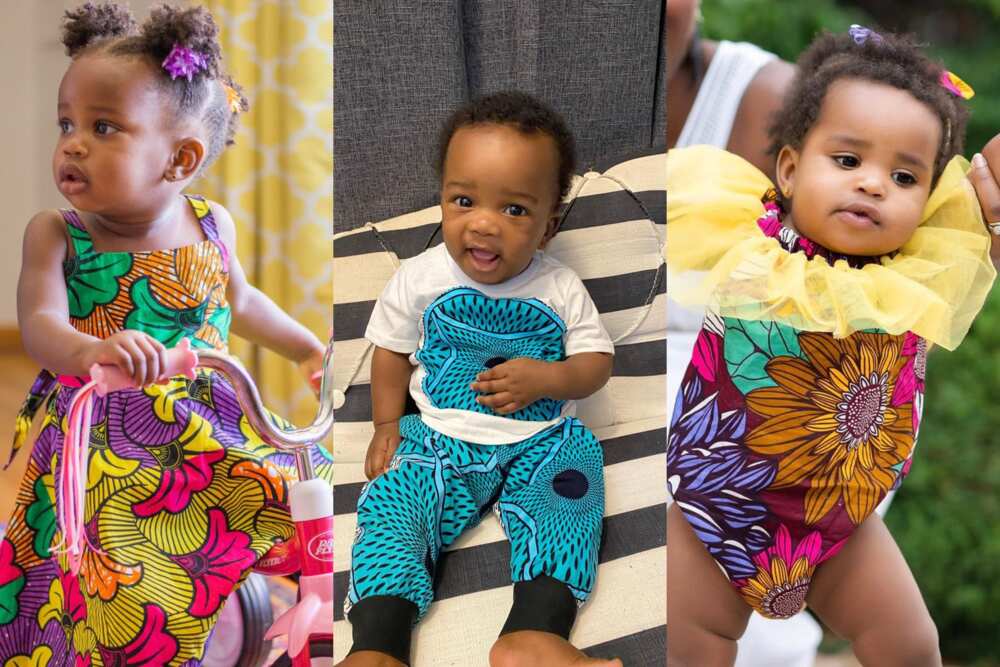 Ankara fashion is slowly becoming affordable to anyone. It is also among the versatile trends that allow any kind of styling. Whether you want to try a complete Ankara suit or combine it with other Western clothes like jeans, you will always get the right style for your baby to rock.
30+ adorable Ankara styles for babies
The Ankara fashion is not limited to adults alone. Babies also deserve the best when wearing and embracing their traditional African heritage. Hence, here are the latest Ankara styles for babies to try.
Ankara gown styles for babies
Children gown styles are typically long and loose-fitting, with varied lengths and fabrics. While some are made entirely from Ankara fabric, others can be made from fabrics such as silk, lace, and cotton but have a touch of Ankara or African print.
Fashion designers also make Ankara dress styles for girls based on celebrations such as weddings or baby graduation. However, what makes them unique is the choice of bright colours and distinctive patterns.
Latest Ankara styles for girl child include baby ball gowns with fitted bodices and full skirts, shift dresses with straight silhouettes, rompers, tutu dresses with princess-like looks, and peplum gowns.
Mermaid gowns also look good on baby girls, though they are uncomfortable to wear for a long time. These styles are ideal for baby girls as they make them look stylish. They are also comfortable, easy to combine with other accessories, and safe for little ones.
Stylish Ankara outfits
Suppose you want to introduce your baby into the fashion world at a younger age with an exclusively traditional African outfit. In that case, the Ankara style is the best way.
These native outfits suit boys and girls as they come in different sizes, colours, and designs to fit both genders. Parents who want their babies to stand out on social occasions can try long-sleeved Ankara senator tops with fitted silhouettes and abstract patterns or geometric designs.
On the other hand, baby girls can try slightly loose-fitting silhouettes with floral prints. Based on personal preferences, Ankara tops can have V-necks or boat necks. Regarding pants, you can go for ankle-length or slightly shorter pants. Finish the outfit with matching hats, sunglasses, belts, and statement shoes.
Ankara traditional prints
Regarding kids' fashion, Ankara styles provide a delightful blend of tradition and modernity. These styles offer comfort, functionality, and a touch of cultural heritage, making them perfect for family gatherings, parties, and casual outings.
Boys can wear Ankara prints that reflect their styles and preferences, such as geometric designs, traditional motifs, or contemporary patterns. For girls, Ankara skirts and shorts provide a versatile option. These can be paired with solid-coloured tops or matching Ankara blouses for a cohesive ensemble.
Simple and stylish Ankara for boys and girls
Simple Ankara styles for children offer unlimited options when choosing the best African outfit for babies. They feature minimal embellishments and clean lines, making them easier to wear. Any simple Ankara style can also fit both boys and girls; hence, parents can easily create or buy them for their twin babies.
Their simplicity does not mean they do not give the ultimate touch of African heritage since they also come in bold colours and patterns that emphasize the vast African fashion culture.
When trying simple children's Ankara styles, parents can go for Ankara shorts and matching tops, shirts, jumpsuits, jackets, trousers, and hoodies.
Ankara shorts or jumpsuits can be made with belt loops or elastic band waists to fit the kids, while Ankara tops can be made with crew necklines or V-necks. Simple Ankara styles go well with accessories with matching headbands, tote bags, scarves, and baby sneakers.
Colourful Ankara styles for babies
Babies wearing colourful Ankara outfits are an absolute delight to behold. The vibrant and intricate patterns of Ankara fabric, often characterized by bold geometric designs and rich hues, add a unique charm to the innocence of a baby's presence.
The choice of vibrant colours and lively patterns in Ankara clothing can stimulate a baby's visual senses and contribute to their cognitive development. Additionally, dressing babies in such outfits is a wonderful way for parents and caregivers to instil a sense of cultural identity and pride from a very young age.
These colourful garments celebrate diversity and tradition while also reflecting the dynamic and modern aspects of fashion.
Matching children ankara styles
Matching Ankara styles often include dresses, rompers, shirts, and even accessories like headbands or bow ties, designed to match the adult outfits or the overall theme. These styles allow parents and caregivers to create a sense of togetherness by dressing their little ones in coordinating or identical prints.
While boys can only choose from Ankara shorts, t-shirts, shirts, coats, agbada, trousers, and senators, girls can rock anything from dresses and gowns to skirts, jumpsuits, wrappers, blouses, and buba.
Parents who don't know specific Ankara styles for children can try Ankara lace styles, butterfly dresses and gowns, classy combinations of Ankara and jeans, and beaded.
Jumpsuits are easy to create a complete outfit without mixing and matching. Ankara jumpsuits come in various styles, from sleeveless to short-sleeved, and offer an effortlessly stylish look.
With the above Ankara styles for babies, you can make your child feel comfortable and stylish anywhere. Always consider their comfort, ease of removal, and size to ensure your child does not feel uncomfortable wearing them.
Legit.ng recently published an article about gorgeous cord lace Aso Ebi styles to draw inspiration from. Cord lace Aso Ebi styles have become among the favourite choices for Nigerians and other women across the globe.
These styles are commonly seen in cultural events such as weddings, funerals, and birthday celebrations. Some women also love wearing them when going to evening events due to their versatility and comfort.
Source: Legit.ng