Legit.ng has obtained the names of the flight crew and other officers who were on board the crashed military plane that claimed the life of the chief of army staff, General Ibrahim Attahiru.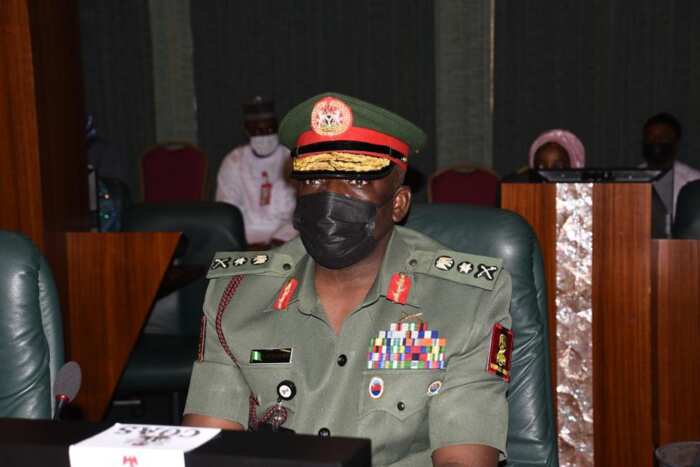 A total of 11 personal died in the crash which occurred in Kaduna state. The Nigerian Army has said details of the crash would be announced in due course.
See the list of the personnel who died following the sad incident:
1. Lt Gen Attahiru
2. Brig Gen Abdulkadir (the principal general staff officer to the COAS)
3. Brig Gen Olayinka
4. Brig Gen Kuliya ( the directorate of military intelligence)
5. Maj LA Hayat
6. Maj Hamza
7. SGT Umar
Crew
8. FLT LT Asaniyi
9. Flt LT Olufade
10. SGT Adesanya
11. ACM Oyedepo
Meanwhile, President Muhammadu Buhari has expressed deep sadness over the air crash that claimed the Chief of Army Staff, Lt. Gen. Ibrahim Attahiru, and other military officers.
The president condoled with families of the deceased, the military, and Nigerians in general, describing them as heroes who paid the ultimate price for peace and security in the land."
While praying that God receives the souls of the patriots, the President says the crash "is one mortal blow to our underbelly, at a time our armed forces are poised to end the security challenges facing the country.
In another news, the All Progressives Congress (APC) said it is in deep shock over the report of a fatal air crash that killed The Chief of Army Staff (COAS), Lieutenant-General Ibrahim Attahiru and other military personnel.
The APC has commiserated with President Muhamadu Buhari, the Nigerian Military, and the families of the deceased for the tragic loss of the officers.
Meanwhile, though details of the crash are still sketchy, a military source said that it happened close to the Kaduna International Airport on Friday evening, May 21.
Already, the Nigerian Air Force, in a statement has confirmed that there was an accident involving one of its aircraft in Kaduna but did not go into details.
Attahiru, from Kaduna state, becomes the second Nigerian Chief of Army Staff to die in a plane crash while in office.
The first was Lt. Colonel Joseph Akahan who was Chief of Army Staff from May 1967 until May 1968, when he was killed in a helicopter crash during the Nigerian Civil War.
Abdulkadir is the Principal General Staff Officer to the COAS
Source: Legit.ng