– More than 10 African leaders have died in office over the last decade
– In 2010, Nigeria's President Umaru Musa Yar'Adua died at 58 after spending about three years in office
– Another prominent leader who has just died in power was the president of Tanzania, John Magufuli
PAY ATTENTION: Join Legit.ng Telegram channel! Never miss important updates!
Tanzanian president John Magufuli who had just begun his second term in office, died on Wednesday, March 17, evoking memories of other African leaders who lost their lives while still in power.
Legit.ng lists 10 other leaders in the continent who passed on due to long-term illnesses, heart conditions and even assassinations.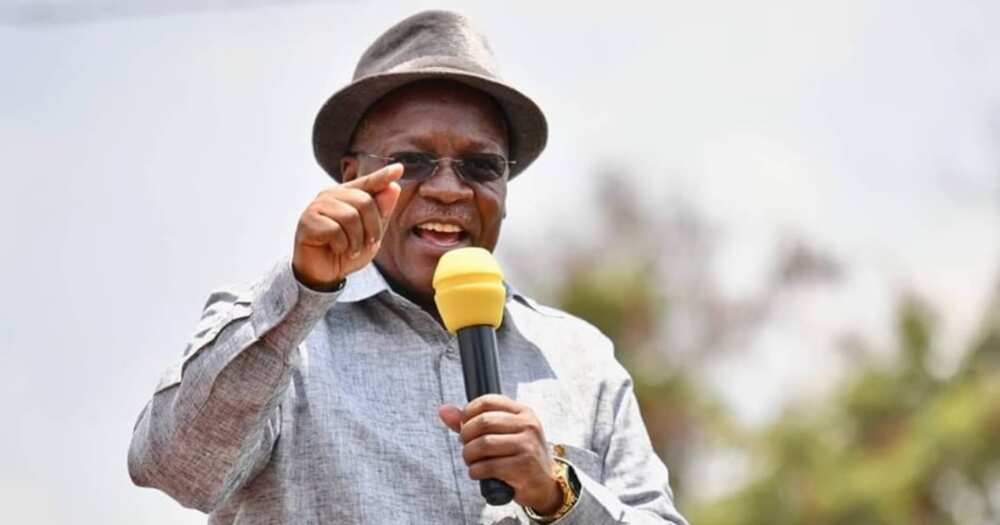 1. John Pombe Magufuli
Tanzanian president John Pombe Magufuli passed away on Wednesday, March 17, at 6pm, according to an announcement made by Vice President Samia Suluhu on state television.
The late president had been missing from the public for about two weeks, and speculation was rife about his whereabouts and health condition in the days leading to the announcement of his death.
The 61-year-old succumbed to heart-related complications, which he had been reportedly battling for over 10 years.
2. Umaru Musa Yar'Adua
Nigerian president Umaru Musa Yar'Adua died in office in 2010 at the age of 58. He had been in office for about three years at the time of his death.
Yar'Adua's campaign was punctuated by his absence which media reports linked to health-related complications.
After his election in April 2007, Yar'Adua's health deteriorated quickly.
3. Michael Sata
Michael Sata served as the fifth president of Zambia, from September 23, 2011, until his death on October 28, 2014.
Sata died aged 77 while receiving treatment from an undisclosed illness in London, United Kingdom.
After his election into office, concerns about his health were raised after he missed major state functions even though his spokesmen downplayed the claims and insisted he was in good health.
4. Meles Zenawi
Meles Zenawi served as president of Ethiopia's transitional government from 1991 to 1995, then as her prime minister from 1995 until he died in 2012.
Zenawi died in Belgium, aged 57, from an undisclosed ailment after ruling Ethiopia for 21 years.
He was best remembered for introducing multi-party democracy, even though he was also accused of violently suppressing the Oromia people's legitimate protests in the northern part of the country.
5. John Atta Mills
John Atta Mills was a Ghanaian politician and legal scholar who served as president of Ghana from 2009 until he died in 2012.
He was sworn into office on January 7, 2009, after defeating the ruling party's candidate Nana Akufo-Addo in the 2008 presidential elections.
Mills had been admitted at the 37 Military Hospital in the capital Accra, three days after his 68th birthday.
The late Ghanaian leader had had throat cancer and had been in and out of the hospital before he died.
6. Bingu wa Mutharika
Bingu wa Mutharika from Malawi was another president who died in office.
He suffered a heart attack in April 2012 and died at the age of 78.
Mutharika was best remembered for his great agricultural policies in his first term from 2004 to 2008, leading to an increase in food production.
However, his reputation was damaged after mass protests over his purchase of a KSh 15.4 billion president jet, which was deemed expensive.
Other presidents who died in office were:
7. Malam Bacai Sanha, president of Guinea-Bissau (2012).
8. Muammar Gadhafi, Libya (2011).
9. Joao Bernardo Vieira, president of Guinea-Bissau (2009).
10. Omar Bongo, President of Gabon (2009).
11. Lansana Conte, president of Guinea (2008).
PAY ATTENTION: Join Legit.ng Telegram channel! Never miss important updates!
Meanwhile, Tanzania's Vice President Samia Suluhu Hassan has been sworn-in as the sixth president of the country a day after she announced the death of President Magufuli.
Suluhu, who read three oaths, took the oath of office at State House Dar es Salaam, Tanzania on Friday, March 3.
The new president, dressed in red and black, then proceeded to inspect a guard of honour mounted by the Tanzania Defence Forces.
*****
Nurudeen Lawal is a Legit.ng journalist passionate about fact-checking/verification journalism. He holds a Bachelor of Arts degree in Literature-in-English from Obafemi Awolowo University. As Politics Editor, Nurudeen mostly writes on Nigeria's political and socio-economic developments. He has attended different workshops, conferences and training on fact-checking and digital reporting, among others. Learn more about him on Twitter, @Nurudeen Lawal_
Source: Legit