The PDP former and present governors under the G5, which Nyesom Wike, was its head, are yet to congratulate the former Governor of Rivers State on his appointment as minister
On Monday, August 21, Wike was sworn in as FCT minister under the administration of President Bola Tinubu and the APC-led federal government
Before his appointment, Wike was a two-term governor of the PDP and worked against its presidential candidate in the 2023 election, Atiku Abubakar, over leadership crisis in the opposition party
FCT, Abuja – The protestant governors of the Peoples Democratic Party (PDP), known as G5, ahead of the February 25 presidential election, seemed to have stopped existing after three of them lost out in the scheme of political scenes after the election.
This is as the leader of the group, Nyesom Wike, who was then the governor of Rivers State, has been nominated, screened, confirmed and sworn in as minister of the Federal Capital Territory (FCT) under the ruling All Progressives Congress (APC) and his G5 team appeared to be keeping mute.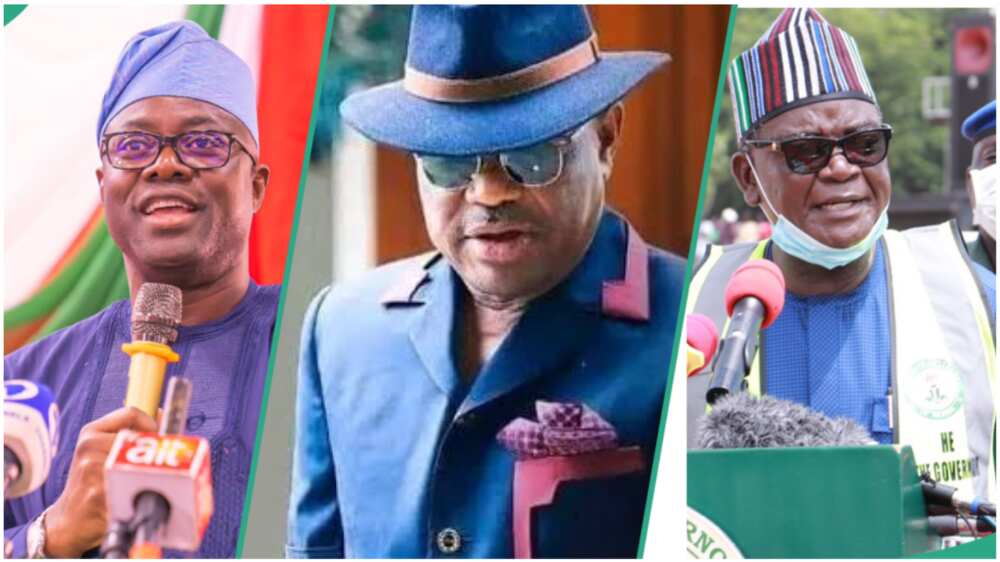 How PDP crisis makes Wike a minister under APC government
The PDP was plunged into a serious crisis following the emergence of Atiku Abubakar as its presidential candidate and the failure of the former vice president to manage the situation and unite the party.
Wike, the leader of the then-aggrieved governors of the PDP, withdrew their support for Atiku in the general election, and the party lost.
The new minister was said to have supported President Bola Tinubu against his party candidate, Atiku, and has recently visited the national chairman of the APC.
List of G5 governors yet to congratulate Wike
However, Aside from Seyi Makinde of Oyo State, who was able to secure his second term election, the three other then-governors of the G5 were Samuel Ortom of Benue, Okezie Ikpeazu (Abia), Ifeanyi Ugwuanyi (Enugu) who lost their senatorial bids and their states to another party.
Since the appointment of Wike as a minister, the G5 governors have been keeping mute; they have neither congratulated the colleague nor condemned the development.
Source: Legit.ng