Seth Rogen says the film studios and streaming giants are unable to get on the same page because they "hate each other" as the Hollywood writers' strike enters its 100th day with no hint of an agreement.
Both actors and writers are on strike for the first time since 1960, bringing the film and TV industry to a standstill and wreaking financial havoc in Los Angeles.
Traditional film studios like Disney, Universal and Warner Brothers and streaming giants, like Amazon and Netflix, are represented in negotiations by the same body, the Alliance of Motion Picture and Television Producers (AMPTP).
But Rogen, who is an actor, writer and executive producer, says they have hugely different priorities.
"The studios haven't even spoken to each other, is what I've heard," Rogen told Sky News.
"So not only does it seem as though the writers and actors have a great distance to go when it comes to the studios, I think the studios have a great distance to go, probably a greater one, when it goes to them getting on the same page.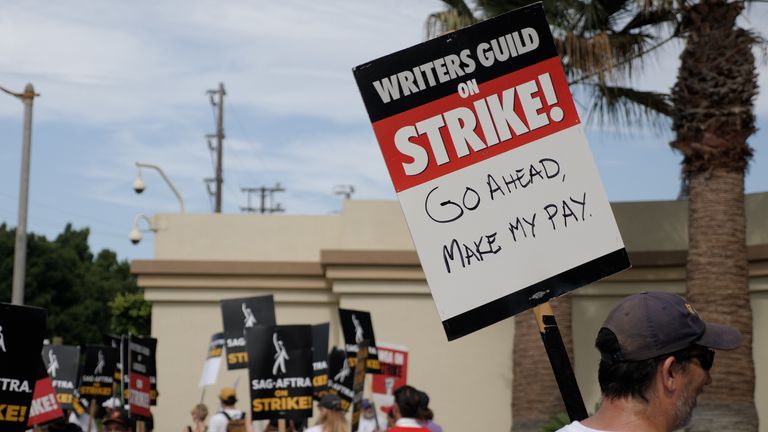 "These are people who hate each other. To think that Universal has the same priorities as Netflix is insane.
"What concerns me is that they will be completely unable to bring forth a coherent and unified proposal because of their own infighting and divergent priorities."
Actors and writers are striking for a number of reasons, but dwindling pay and controls around Artificial Intelligence are the main sticking points.
'If you need me, pay me'
Sheryl Lee Ralph, an Emmy nominated actress, says AI threatens creativity in filmmaking.
"If we can all be artificially generated, that's frightening," she tells Sky News.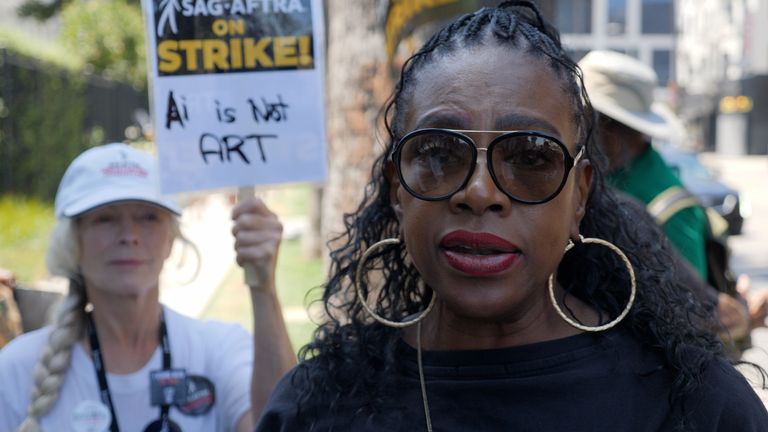 "We need something that's far more important. We need the art of human beings. I want to know, would William Shakespeare stand for this? I think not."
But Ralph says she would consider selling her digital likeness for use after her death, provided she had given her consent and received compensation.
"If I die and somebody wants to scan my body before I die, they can scan it for a price to make sure that generations after me are not left out of whatever money somebody else makes on my image.
Zoe Saldana backs actors' strike

"I don't want somebody to take my image, repurpose it, put another face on it and I get nothing from it.
"Just be fair. Compensate me. What did Diana Ross say? 'If you need me, pay me.'"
'Technology not the problem – it's how it is used'
Flawless AI is one of the biggest AI companies in film.
They designed a system, called TrueSync, to provide a better dubbing solution for films translated into other languages.
Actors' strike: 'We will not allow you to take away our dignity'

Read more:
US actors' strike: Why are Hollywood stars walking out
Hollywood stars strike outside Netflix and Disney
TrueSync creates deepfake-style effects altering the mouth movements of actors to match the alternate dialogue being spoken.
Chief executive Nick Lynes recognises that AI in film faces a PR battle.
"I can understand why people are scared," he says.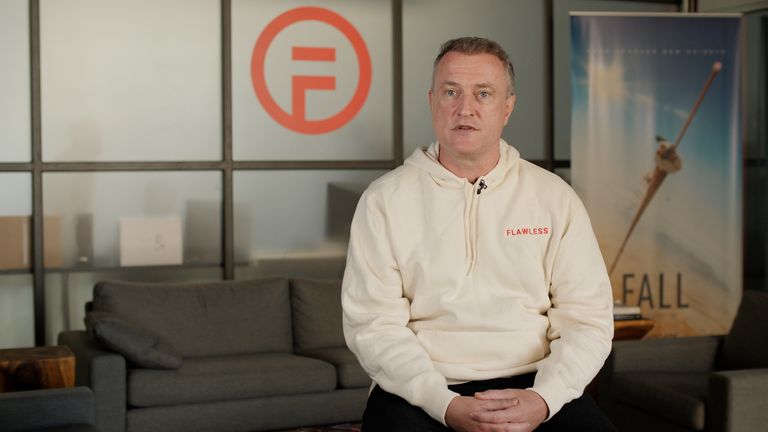 "Generative AI is legitimately as powerful as people talk about, but we work very much in cooperation with all the stakeholders and we have done for a long time.
"Our view is that if any new creation has come from data born from other people's existing creation, then the relevant consent and the relevant compensation needs to be arranged.
"I'm not sure technology is ever the bad guy, it's how it's being used."
Strike may last well into the autumn
Justine Bateman, a writer and director, has been on the picket line most days of the strike.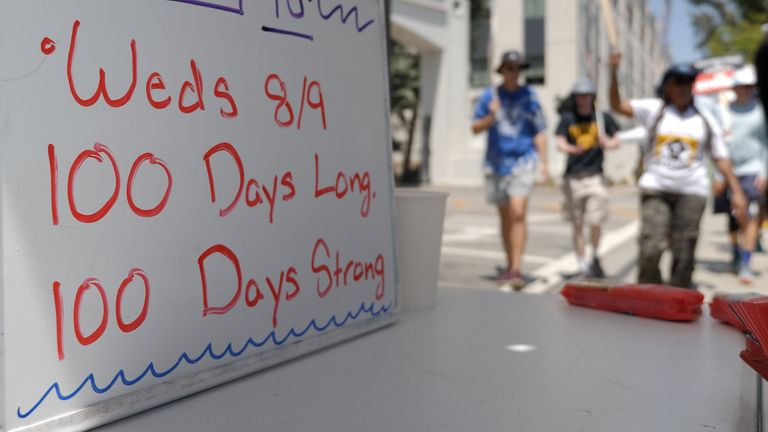 She views the debate in binary terms.
"I think it's a zero-sum game," she says.
"It's using generative AI to make films or using people. When you're talking about the greed that motivates people to use generative AI instead of humans, that's what's going to ruin this business.
"These generative AI models make little Frankenstein performances in which you can order up a character to look like Brad Pitt combined with Mickey Mantle and have them dance like Fred Astaire with a Spanish accent."
This strike is already one of the longest – and hottest – in Hollywood history and many expect it to last well into the autumn, disrupting TV broadcast schedules and wrecking film promotion tours and the early part of the awards season.
It is a marathon, with no finish line in sight.