– Egypt government has seized the ship that blocked its seaway, asking for the owner, Shoei Kisen, to pay $900 million
– The country had lost $12 million and $15 million each day the Suez Canal was blocked for six days in March
– Over 400 ships had been left stranded on the canal that accounts for 10% of world trade and made Cairo $5.7 billion in 2019-2020
PAY ATTENTION: Join a community of CEOs, founders and decision-makers: subscribe for a free monthly business newsletter Digital Talks and succeed BIG!
Egypt government has demanded for $900 million from Japanese company, Shoei Kisen, owner of the ship, Ever Given, which blocked the pathway of Suez Canal for about six days.
The ship had breakdown for almost a week, leaving 400 ships stranded in the north and south of the sea. This cost Egypt $12 million and $15 million each day the canal was blocked.
An insurer, Allianz, said the downtime of the ship is also causing $6 billion to $10 billion losses each day.
Suez Canal is a major revenue source to the country, contributing about $5.7 billion to Cairo between 2019 and 2020. It also accounts for 10% of world trade. The ship was eventually relocated after intervention from international experts.
Since Ever Given was refloated at Great Amer Lake to allow traffic flow on the canal, Egypt demanded for compensation for their losses as backed by the economic court of Ismailia, the government's daily Al-Ahram reported.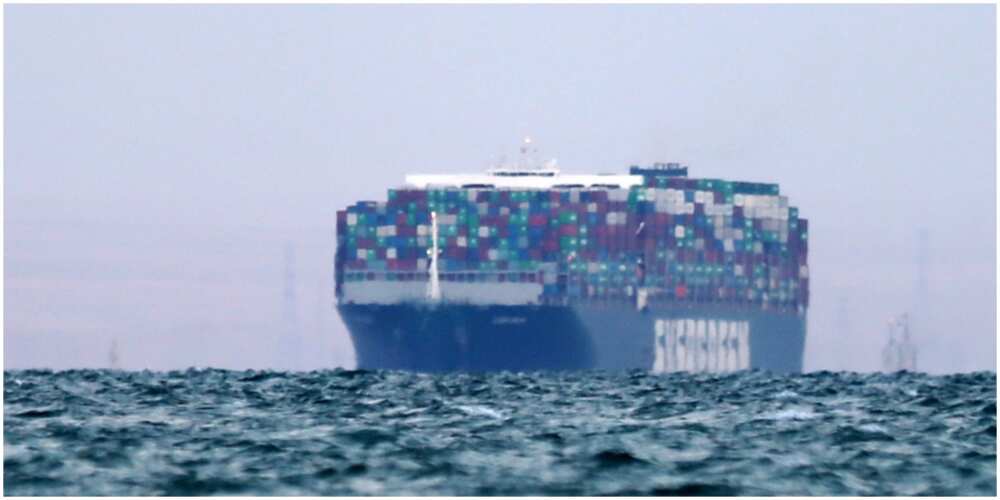 The head of the Suez Canal Authority (SCA), Admiral Ossama Rabie, said that negotiations are still ongoing with Shoei Kisen and the insurance companies, but there's stumbling block with the sum. 
"The Panamanian ship Ever Given was seized due to the non-payment of the sum of 900 million dollars (…) by virtue of a judgment rendered by the economic court of Ismailia" he said.
Meanwhile, Legit.ng had reported earlier that households consumption expenditure had declined compared to that of the Nigerian government, this is according to the Nigerian Bureau of Statistics.
Government consumption expenditure rose to 61.58% last year, while Households consumption was put at 0.81% in 2020 full year. Although, during the fourth quarter, the latter rose.
The decline in yearly consumption of Nigerian households occured at a period inflation rate and unemployment is on the rise.
Source: Legit