Ilorin, the capital city of Kwara state located in north-central geopolitical, has been at the centre of attention lately
Followers of Islam have been embroiled in a crisis with Isese (the Yoruba word for tradition) adherents over religious practices of the latter which they (Isese worshippers) insisted they would perform in the public
Amid the crisis and subsequent prohibition of the Isese Day celebration, one of the well-known Isese adherents, Tani Olohun, was picked up by the police
Ilorin, Kwara state – The leader of the Academy of Islamic Propagation (ACADIP), Mallam Yusuf Adepoju, has disclosed that Azeez Adegbola popularly known as Tani Olohun, has a plethora of cases on his neck.
Tani Olohun, a traditional worshipper and blogger, was arrested last week in Ibadan, the Oyo state capital, based on petitions by several Muslims.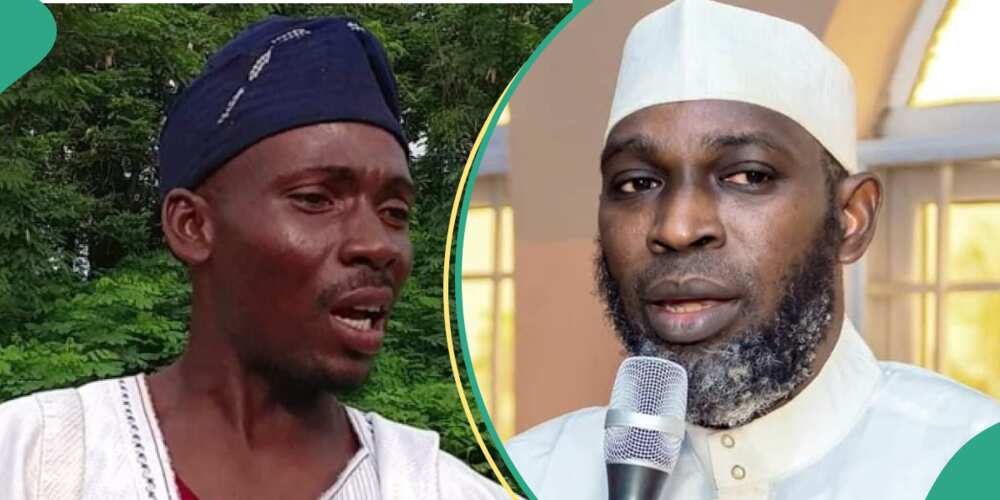 Tani Olohun arrested
He was subsequently remanded in a correctional centre in Kwara state until October 5, for defaming several Nigerian Islamic clerics, among other offences.
PAY ATTENTION: Share your outstanding story with our editors! Please reach us through [email protected]!
The embattled Isese adherent first caught public attention in August 2022 when he filmed himself shredding the Holy Qur'an and burning it, boasting about his action. Muslims at the time, denounced the "offensive action", pointing out that Tani Olohun's action was unprovoked.
However, the recent rift between the minority Isese worshippers and Muslim-dominated Ilorin city boosted Tani Olohun's popularity. The Oyo state indigene deployed his Facebook page to create videos where he waged an online battle against Muslims.
Shedding light on the reason for Tani Olohun's arrest, Adepoju said during a Facebook Live on Sunday, August 20:
"Tani Olohun committed crimes — going by the suit filed at the court by the Nigeria Police Force (NPF).
"Both the people supporting him and those against him, if we are to be true to ourselves, everybody knows he erred.
"Concerning me, he did a Live video where he put my picture and claimed I am deceased. People started calling me. And he (Tani Olohun) did it a lot.
"And I watched one where he asked people to carry sticks and storm Iwo town to pummel the Mufti (Sheikh Dawood Malaasan) to death. His case is now a serious one. And it has now been enlarged."
Meanwhile, security operatives, comprising policemen, operatives of the Nigeria Security and Civil Defence Corps (NSCDC), Department of State Services (DSS), and the army, were stationed at the Yemoja River in Oko Olowo area of Ilorin, Kwara state, on Sunday, August 20.
It was gathered that the security surveillance at the Yemoja River was to prevent any breakdown of law and order at the proposed venue of the Isese festival.
An Ilorin resident who spoke to Legit.ng, divulged that the security operatives averted a fatal crisis. He swore that locals were determined to attack Isese adherents with deadly weapons had they attempted to celebrate Isese Day at the Oko Olowo River.
Tani Olohun sent to prison
Earlier, Legit.ng reported that Tani Olohun was remanded in prison for defamation, among other offences.
Tani Olohun was arrested on August 16 in Ibadan and taken to a police station in Ilorin, Kwara state.
Source: Legit.ng