Lota Chukwu is a Nigerian actress, producer, director, writer, and model. She gained popularity for her role as Kiki in the Nigerian TV series Jenifa's Diary, in which she starred alongside Funke Akindele, Yinka Pearce-Tijani, Chidinma Ifunanyachi and Jack Loy.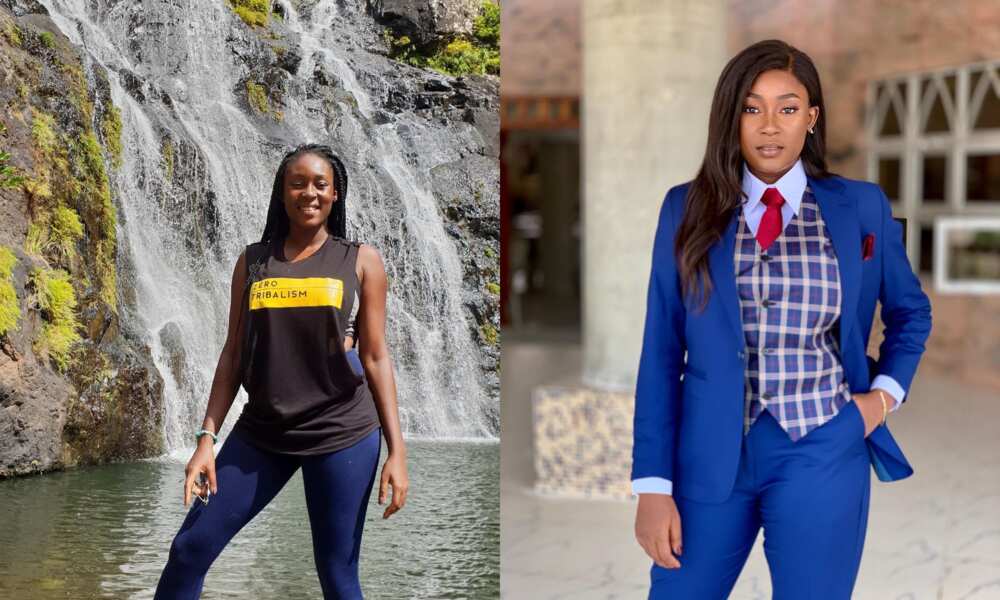 Lota Chukwu began her official acting in 2015. She has appeared in Nigerian films and TV shows such as Tailor My Heart, Maybe Mine, When Life Happens and The Mystic River. She is also a yoga fitness enthusiast.
Profile summary
| | |
| --- | --- |
| Real name | Ugwu Lotachukwu Jacinta Obianuju Amelia |
| Gender | Female |
| Date of birth | 29 November 1989 |
| Age | 33 years old (as of August 2023) |
| Zodiac sign | Sagittarius |
| Place of birth | Nsukka, Enugu State, Nigeria |
| Nationality | Nigerian |
| Ethnicity | African |
| Religion | Christianity |
| Sexuality | Straight |
| Height | 5'10" (177 cm) |
| Body measurements | 36-28-38 inches (91-71-96 cm) |
| Hair colour | Black |
| Eye colour | Black |
| Siblings | 3 |
| Relationship status | Single |
| University | University of Benin and Royal Arts Academy |
| Profession | Actress |
| Net worth | $5 million |
| Instagram | @thelotachukwu |
Top 10 facts about Lota Chukwu
Lota has been a talented actress in the entertainment industry for a while now. Here are more exciting facts about her life.
1. She was born in Enugu State
Who is the actress Lota in Nollywood? Ugwu Lotachukwu Jacinta Obianuju Amelia, popularly known as Lota Chukwu, is a famous Nigerian actress born in Nsukka, Enugu State, Nigeria. Her formative years were primarily spent in Benin City. She is the youngest among four siblings in her family.
When was Lota Chukwu born?
Lota Chukwu was born on November 29, 1989. Her zodiac sign is Sagittarius.
How old is Lota Chukwu?
As of 2023, the actress is 33 years old.
2. She is a graduate
Regarding her education, Lota Chukwu pursued an Agricultural Economics and Extension Service degree at the University of Benin. Following her academic pursuits, she also honed her acting skills at the Royal Arts Academy in Lagos, Nigeria.
3. Lota is an actress
Lota Chukwu ventured into acting in 2011, and her role as Kiki in Jenifa's Diary in 2015 catapulted her to widespread fame and popularity. Since her debut, she has appeared in various films and TV shows. According to her IMDb profile, below is a list of some of her acting credits.
| | |
| --- | --- |
| Year | Film/TV show |
| 2023 | No Wrong Choice |
| 2022 | Cranky Decision |
| 2022 | 37 to Go |
| 2022 | Tear Away |
| 2022 | 840 Days |
| 2022 | The Set Up 2 |
| 2022 | One Bad Turn |
| 2022 | Devil's Angel |
| 2022 | Mama's Boy |
| 2020-2021 | Enakhe |
| 2021 | Love Found Me |
| 2021 | That Other Side |
| 2021 | The Supervisor |
| 2021 | The Mystic River |
| 2021 | Missing |
| 2021 | Entangle |
| 2020 | Yasmeen |
| 2020 | Beyond Repair |
| 2020 | This Lady Called Life |
| 2020 | Small Bant |
| 2020 | Karma Is a Gangster |
| 2020 | Faded Lines |
| 2020 | When Life Happens |
| 2020 | Unplugged |
| 2020 | Maybe Mine |
| 2019 | Unlocked |
| 2019 | The Tea Room |
| 2019 | The Sojjis |
| 2019 | Executioner |
Lota Chukwu is deeply passionate about cooking. In 2017, she unveiled her food show, Lota Takes, a delightful cooking and lifestyle series. The show showcased Lota in her element as a true food and nature enthusiast, allowing her to share her culinary adventures with her audience.
4. She is a director, writer and producer
Besides acting, Lota is a director, producer and writer. Some of her contributions include Now That We're Married, 37 to Go, Small Bant and David. She works at Cowrie Films, a Nigerian film production company, telling Nigerian stories to the world.
5. She has been nominated twice for awards
Lota Chukwu's impressive acting prowess has earned her two notable nominations. She received a nomination for the Scream All Youth Awards in 2016 under the Film Revelation of the Year (Female) category. In 2017, she was nominated for the City People Entertainment Awards for Best New Actress of the Year (English).
6. She earns her own money
Lota Chukwu's net worth is alleged to be $5 million. She has acquired wealth from her entertainment career and endorsements from companies such as Techno.
7. She is a pet lover
While many have been wondering if Lota Chukwu is a single mother, there has been speculation about Lota Chukwu's status as a single mother, with rumours suggesting she has four children. However, these rumours turned out to be a misunderstanding.
Lota's statement about having four kids was taken out of context, as she referred to her four beloved dogs, whom she adores and considers her cherished "children."
8. She is a great friend to Frederick Leonard
Lota Chukwu and Frederick Leonard's relationship has left many thinking the two were once an item. The two are great friends who have played lovers in various films and TV series such as Tailor My Heart, Void and The Only Woman I Love.
Is Lota Chukwu single?
The Nigerian actress is currently single. She is not married and does not have any kids.
9. She is a social media personality
The talented actress maintains a strong presence across multiple social media platforms, including Instagram and Twitter. She boasts 1.2m followers on her Instagram account, regularly sharing photos of herself and her films and friends. Similarly, her Twitter account has amassed over 91k followers.
10. Lota is tall
Lota Chukwu's height is 5 feet 10 inches (177 centimetres). She has black hair and eyes. Her body measurements are 36-28-38 inches (91-71-96 centimetres).
Fast facts
Here are fun facts about the actress.
She loves food.
She enjoys creative writing.
She loves travelling.
Her mum is the greatest human influence in her life.
She has never gone out on a romantic date before.
She was a model and participated in the 2011 edition of The Most Beautiful Girl in Nigeria.
She featured Nigerian celebrities, including Adekunle Gold, Tosin Ajibade, Aramide (musician) and MC Galaxy, on her cooking show.
Lota Chukwu is a multi-talented Nigerian actress who has carved her path in the entertainment industry with her exceptional acting skills. She remains an inspiration to many aspiring actors and actresses.
Legit.ng recently published the top 10 facts about Tony Romo's wife, Candice Crawford. Candice is a notable American journalist with a background as a former beauty pageant star. She won the Miss Texas Teen titles in 2003 and 2005 and was later crowned Miss Missouri USA in 2008.
Tony and Candice's love story began when Candice was interning with the Cowboys during the early 2000s, and it eventually blossomed into a romantic relationship in 2009. They got married on 28 May 2011, during the NFL lockout.
Source: Legit.ng