Ireti Kingibe, the lone senator of the FCT, has cautioned the minister of the FCT, Nyesom Wike, from parading himself as governor of the federal capital
Kingibe argued that the recent appointment and inauguration of 8 mandate secretaries of the FCTA were to pass through national assembly screening
Addressing her constituency at a press conference, Kingibe said she was elected and answerable to the people, but Wike was not
FCT, Abuja – Ireti Kingibe, the senator representing the Federal Capital Territory (FCT), has warned the coordinating minister of the FCT, Nyesom Wike, against acting beyond his without responding to the national assembly.
According to This Day, Kingibe maintained that the National Assembly would carry out the legislative duties to the Federal Capital Territory Administration (FCTA) as the House Assembly does to the state government.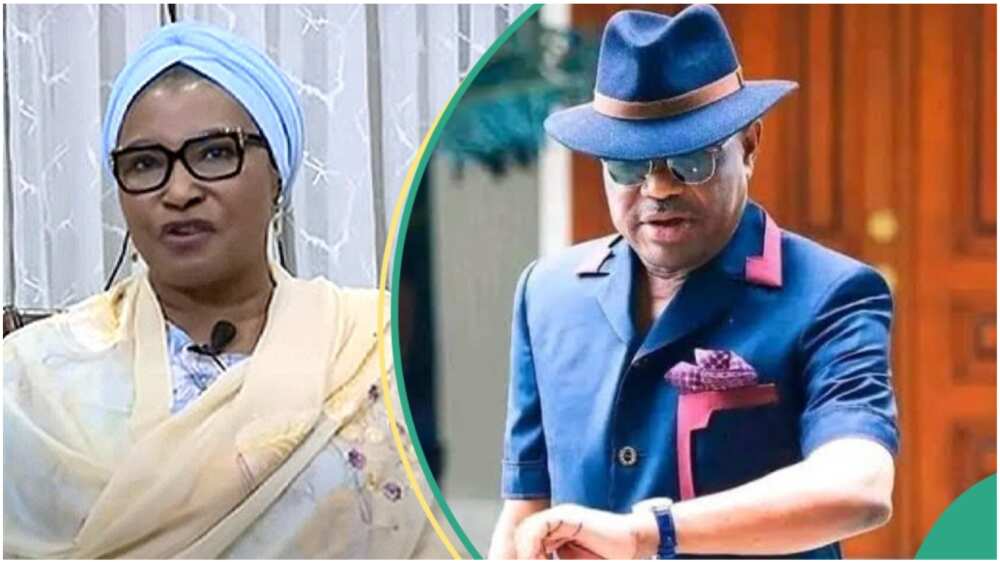 Kingibe faults appointments of 8 mandate secretaries of the FCT by Wike
The senator made the comment while faulting the swearing of eight mandate secretaries of the FCTA that the minister did a few days ago. She argued that Wike did not have the power to appoint and inaugurate the mandate secretaries and that some of them were indigenes of the FCT.
She said that as the House of Assembly were to the state governments, so was the FCTA to the national assembly.
While addressing her constituency, the senator said:
"The minister does not have executive powers. He works hand-in-hand with the National Assembly and the president to administer FCT."
"Wike is not answerable to you", FCT senator tells constituents
The senator reminded her constituency that she was answerable to the people, but Wike was not because she was elected and President Bola Tinubu appointed Wike.
However, she expressed optimism about working with Wike, the immediate past governor of Rivers State.
Her statement reads in part:
"You must remember that the minister and I have different goals. I was elected by the people; I'm answerable to you, the people of the FC; he is not. But working together, I hope we can merge our interests."
Legit.ng earlier reported that the minister of the FCT, Nyesom Wike, has disclosed the rationale behind his appointment to the position by President Bola Tinubu.
Wike disclosed that the confidence the president had in him earned him the minister of the FCT.
The minister made the revelation while sending warning to contractors in the federal capital against leaving project uncompleted after they have been paid.
Source: Legit.ng